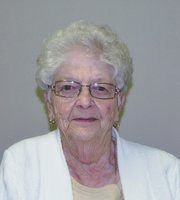 Jean Hickson
The family of Isabel Jean Hickson is saddened to announce her passing at the Maidstone Hospital, Maidstone, Saskatchewan on Sunday, September 17, 2017 at the age of 88 years
A Celebration of Life in memory of Jean will be held at Lashburn Seniors' Centre, Lashburn, SK, on April 7, 2018 at 1:00 PM.
Jean will be forever missed and lovingly remembered' by: daughter, Marnee (Don) Gehon; grandchildren, Richard (Maritza) Perrin; great grandsons, Cooper and Wyatt; grandchildren, Dayne (Jen) Perrin; great granddaughters, Hailey and Hanna; step grandchildren, Shannon (Micah) Hildebrandt and their children, Parker, Blake and Logan; step grandchild, Daniel Gehon and his children Krysta, Brooke and Ryelle; daughter, Shannon (Rob) MacDougall; granddaughter, Breanna (Ian) Perkins; great granddaughter, Meredith; step great grandchildren, Lauren, Kael and Rhett; step grandchildren, Mel (Tim Toth) MacDougall, Chase MacDougall and Megan Render (Dennis Reid); sisters, Marj Venables, Eileen (Jerry) Frost and brother, Ken (Jean) Wright.
Jean is predeceased by: husband, Richard Hickson; parents, Daniel and Elizabeth Wright; sister-in-law, Marion Wright; and infant brother.
Donations in memory of Jean may be made to the Maidstone Health Complex.
The family of Jean would like to thank the doctors and staff at Maidstone Health Complex for their kindness and compassion.