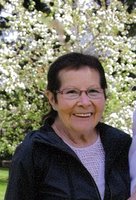 Pat Kastendieck
Thelma "Pat" Patricia Kastendieck passed away at the Lloydminster Hospital, Lloydminster, Saskatchewan on Monday, October 9, 2017 at the age of 79 years.
Pat is survived by: her children, Mike (Tara McDowell) Kastendieck, Norlee (Bill Davis) Panagiotidis and Peter Kastendieck; her grandchildren, Maxwell Kastendieck, Kyle Callbeck, Jayden (Kelly Carruthers) Callbeck, Lance Callbeck, Luke Panagiotidis, Kristen Panagiotidis, Holly Davis, Zack Davis, Brook Kastendieck and Hailey Kastendieck; and son-in-law, Keith Callbeck.
Pat is predeceased by: her parents Ali and Jane; and her daughter, Suzie Callbeck.
The Memorial Service for Pat will be conducted from The Word Church, Lloydminster, Saskatchewan on Saturday, October 14, 2017 at 1:00 PM.
Donations in memory of Pat may be made to The Word Church (1802 49 Avenue Lloydminster, SK S9V 1T2.
Pat's memorial card can be viewed or downloaded from the link below.
https://indd.adobe.com/view/38239ba7-e536-4927-8cff-7c40b8b2d5f8