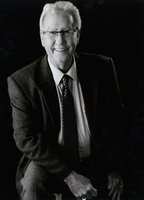 Gerald "Tom" Hollington
We will have a toast to Tom after the Eulogy
TOM'S JOURNEY
"Tom" Gerald Thomas Hollington
Husband, Father, Grandfather, Uncle, Friend 1, Brother
Well, folks, here we are at the end of Tom's journey
And what a journey its been.
It all began on the Hollington farm near Marwayne Alberta.
On Janurary 23 1949, Tom and twin brother Donny were born in Islay hospital to Charlie and Dora Hollington. I wonder what big brother Bill had to say about 2 brothers showing up. Donny, the thriving chubby boy and Tommy the skinny under weight. Ole Doc Sweet said don't waste any time on him. He won't make it. But Dora had other plans for her boy. He thrived from her care, from the shoe box bed near the wood stove, to the special Pablum she fed him. You will see on the table the Pablum container that was found in his dads attic a few years ago. Unfortunately, 2 1/2 years later twin brother Donny passed away from pneumonia.
Tom loved the farm and worked the fields along side his dad. Well, what the heck along came more sons, Ken, Ted, Doug, and the "Finally" a sister for the boys. Wow A Sister. Ann (Tootsie) as she was called was the apple of every ones eye.
Then in 1964, Charlie and Dora sold the farm and moved to the city. Well, that was an upsetting time for Tom as he wanted to be a farmer. But it wasn't meant to be.
Tom started work at a small Service Station in LLOYD., called the White Rose. From there he went to work at the local Chrysler Dealership "Graham Gardners". He then started his auto mechanics apprenticeship and in 3 years he received his Journeyman's ticket.
In 1967, Tom met Lorna and the courtship began. They dated 1 year, engaged 1 year, and in 1969 they were married. In the 1st year dating Tom heard the wrath of Lorna's dad. It seems she wanted to take Tom's truck to school and then after school her and some girlfriends went joy riding. Guess who found out, Yup, her dad. Well, he went to the service station and from what I hear it was a pretty one sided conversation. You see, Lorna didn't have a drivers license.
Just at the time of their marriage, they both got jobs in Marshall, Saskatchewan, and worked for Lloyd and Alice Rogerson at the new Shell Service station along highway 16. He in the shop and Lorna on the cafe.
In March 1971 Tom and Lorna were blessed with the arrival of their Daughter Sheila, the apple of his eye. Then 3 years later in March of 1974 he became the proud father of his son Jerry.
In 1975 Tom and Lorna purchased the service station and he worked long hard hours.
About this time Tom became a very passionate Snowmobile Racer. It was nothing for him to work into the wee hours of the morning to fine tune his sleds. All winter for several years, they would load up the kids and the sleds and off they would go to the race tracks on the weekends. Freezing temperatures, snow storms, icy roads, kids, motels, dog, off they went. Racking up the miles on vehicles. Tom raced small town winter festivals, then moved up to the Sanctioned Races in Alberta and Saskatchewan. He raced against the best. one group comes to mind, The 4 Decker Bros. ( Factory Reps) from the States. They met many fine racing people. It seems in recent years Jerry and his family has developed the need for speed. They are now racing in vintage snowmobile races in Saskatchewan. This time of his life Tom greatly treasured.
In 1978, Tom and Lorna sold the service station and Tom worked briefly for the Dept. of Highways. He soon realized this was not the job for him. He then went to work for the RM of Wilton operating a road grader and he later became Foreman. His years of service at the RM was from 1978 to 1989.
Sheila and Jerry attended school in Marshall and went onto High School in Lloydminster. What a very proud dad he was to see his kids graduate Grade 12. You see Tom was not a fan of school himself, but he managed to achieve grade 9.
Tom's mom taught Tom to dance. He learnt to dance in sock feet while mom and Tom waxed and polished the floors. Tom passed his Dancing skills onto Sheila and they could sure sweep across the dance floor. He was on the Marshall Hall Board for many years. In 25 years they only missed 1 New Years Eve Dance.
He believed in community support. He was on the Marshall Fire Dept. for 14 years. A few of them as Fire Chief. He was also a Village Alderman from 1982 to 1988, and on the Marshall School Board. One particular meeting comes to mind, the Principal was all in a dither. There was a student that refused to take FRENCH. REMEMBER TOM DID NOT LIKE SCHOOL. Well guess what, Tom solved that issue very fast. No problem he said to the Principal. He doesn't have to take French. CASE CLOSED. Remember, TOM'S "THE BOSS".
In 1992, Tom went to work for PRECISION CONTRACTORS building oil leases. Many long hours and days went into his career with Precision, as you all here know. What a Dedicated well oiled staff and company you all are.You all strive for the BEST DAYS WORK. He eventually made his way into "THE OFFICE" at the request of Rick Goulet, but only on a trial basis. Well, that trial lasted many, many years.
In 1997, 1998, 1999 along came 3 VERY PRECIOUS GRANDCHILDREN.
Sheila and Lance's son Kyle.
Jerry and Daphne's daughter Taya, and son Pierce.
Grandpa is so very proud of each and every one of you. Take a page from his "BOOK"
Work hard, play hard, but above all do not forget family values. Follow your Dreams, Be Strong, And most of all BE PROUD OF WHO YOU ARE.
Tom was forced into early retirement due to health issues. And after a couple of years he overcame that issue and he and Lorna started some travelling. In June 2015, they went on an Alaskan Cruise and they had the most amazing holiday. 2 things off his bucket list was the cruise and panning for GOLD. Panning had been a dream for many years and he managed to cross it off the list. He was amazed at how many Bald Eagles there were in Alaska. A MOST MAJESTIC BIRD. Back in the 70's, Tom and Lorna rescued a sick Bald Eagle. It was sent to the U of S veternary-school, and the students managed to save the bird. It was eventually released back into the wild. So when you see a Bald Eagle soaring above. Say hi to Tom. He is watching over us all.Tom contracted Pneumonia in May and several hospital stays later it was discovered he had Stage 4 Cancer.He fought a huge battle, but it was just to much for him to overcome.
As many of you know he was a TOUGH OLE BUGGER. He fought a viliant fight.
Tom loved his autos. Over the years he was always wheeling and dealing. Whether it was cars, trucks, snowmachines, quads, RVs and on and on the list goes. From Sheila's 1960 Mere stepside, to Jerrys 1969 Chevy long box. The last 15 years his passion increased. He finally restored a car for himself. His treasured 57 T-Bird and then he bought a 1966 Dodge Monaco. And most recently his 1992 Dodge Dakota Warrior truck, which you can see here today.
Well folks, we could go on and on for many hours and you all know Tom had the gift of GAB. Lorna often called him her social butterfly. Much to his dismay.
In closing he wants everyone to know he treasured all his friends and family and
THANKS FOR THE DANCE EVERYONE
SOAR LIKE AN EAGLE
So lets all have A TOAST TO TOM
Gerald Thomas "Tom" Hollington passed away at the Lloydminster Hospital, Lloydminster, Saskatchewan on Sunday, October 29, 2017 at the age of 68 years.
Tom leaves to mourn his passing: his wife of 48 years Lorna; his daughter Sheila (Lance) and their child Kyle, his son, Jerry (Daphne) and their 2 children Taya and Pierce; his brothers, Bill, Ken (Cheryl) and their 2 children Lacey & Taylor, Ted (Penny and their 2 children Chris & Matt, Doug (Bev) and their 2 children Brittany (David) and their 3 children Lucas, Gabriel, Evaleigh and Carlie; his sister, Ann (Randy) and their 2 children Jolene (Dallas) their 2 children Charlie & Chloe, Justin (Lana) and their 3 children Madalyn, Emily & Oliver.
Tom was predeceased by: his twin brother, Donnie on May 11, 1951; his mother, Dora on August 8, 1987; his father, Charlie on November 5, 2007; and his father-in-law, Loran Fitzsimonds on January 4, 2012.
The Celebration of Life Social for Tom will be conducted from the Stockade Convention Centre, Lloydminster, Saskatchewan on Friday, November 3, 2017 at 1:00 PM.
Donations in memory of Tom may be made to the Lloydminster Palliative Care; Just Kruzin Car Club or Charity of Choice.
Tom's memorial card can be viewed or downloaded from the link below.
https://indd.adobe.com/view/c799d936-7d4b-467a-9606-b6d8080aa61c