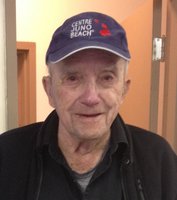 Jack McMurphy
Jack McMurphy closed his eyes and slipped away before breakfast on Sunday, November 12, 2017 at the Riverside Nursing Home in Turtleford, Saskatchewan, six weeks before his 98th birthday.
Missing his presence are his children, Evelyn (Alan) Whitfield, Maxine Tetz (Gerald Relitz), Margaret (Allan) Chisholm, Stewart (Trudy) McMurphy, Shelley McMurphy, David (Shelley) Nichol and Laurie Baskin, his nineteen grandchildren, thirty great grandchildren and two great great grandchildren who always made him smile. Little brother David (Thelma) McMurphy, sisters-in-law, Pauline McMurphy, Alma Cockburn, Jenny Nichol, Pearl Schick and his first wife Evelyn Curtis Russell miss him dearly.
He has now joined his parents, stepmother, older sisters Olive and Annie, little sisters Grace, Ada James and Elva Reichel Dopson, brothers, Ron McMurphy Sr and two in infancy, his second wife Bernice Stewart, a daughter in infancy, third wife Betty Mowery Nichol, Betty's son George Nichol and his wife Kathy Stepanik Nichol, great grandson Zach Starling, nephew Ron McMurphy Jr, niece Anna Ruth James, grandniece Kimberly Conacher, brothers-in-law Howard James, Frank Dopson, Jim Cockburn, Lyle Stewart, Jim Mowery, Stan Nichol and sister-in-law Marion Stewart.
The Funeral Service will be conducted from the Turtleford Community Hall, Turtleford, Saskatchewan on Friday, November 17, 2017 at 2:00 PM (CST).
Jack's funeral card can be viewed or downloaded from the link below.
https://indd.adobe.com/view/0f95f4f2-572a-4b77-9c14-14a48db52496
Jack was born 24 December 1919 at the homestead near Turtleford. He was the fourth child and first to live beyond infancy of Dugald and Olive Journeay McMurphy. One year and six days later his little sister Ada was born. Jack and Ada's mother Olive passed away 14 May 1921 from a brain aneurism, she was thirty-two. In 1953, Ada passed away from the same condition, she was thirty-two.
Dugald married Christina Hartwick in 1923. Ronald, Elva, baby boy who passed at birth, Grace, who died at three months from diphtheria and little brother David completed his siblings. Christina passed away in 1945 while Jack was overseas.
Jack decided to quit school at fourteen to seek his fortune. He helped his Dad farming and was in demand to work on threshing crews. Doug was also a funeral director and Jack helped with funerals until Doug sold out to Ripley and McCaw in 1948. In the fall of 1941, he joined the army, six months were spent training in Canada before shipping out for England. In England while on leave he met Evelyn Curtis, a nurse, they married in April of 1944. Not long after the marriage Jack landed in Normandy. Jack drove trucks with petrol, rations, ammo and the mail as well as driving Bren gun carriers. With the 7th Medium Regiment he made his way across France, Belgium, Holland and finally Germany. In May of 1945, he was granted leave, went to London and met his three-month-old daughter Evelyn for the first time. The German Army capitulated while he was on leave, he had a hard time believing it, not until the normally staid British people started singing and dancing in the streets. They joined the crowd and were swept along to Buckingham Palace where the King, Queen and the Princesses Elizabeth and Margaret were on the balcony waving to the crowds. Ever irrepressible Jack yelled up to Princess Elizabeth, "How about a date?"
Evelyn and Jack made the decision to divorce as Evelyn at twenty-two could not leave her family behind. Jack went back to Canada to farm. He started out with a shack, four horses, two cows, some machinery and a cat who was a good mouser in 1946 on the farm where he lived until last year. He married Bernice Stewart in 1949. Along came Maxine, Margaret and Stewart. Bernice lost her battle with cancer in 1968.
Jack met & marries Betty Mowery Nichol and they had a daughter Shelley. Betty brought three children with her from an earlier marriage, George, David and Laurie. Betty lost her battle with cancer in 1999.
To supplement his farming income, he worked as a clerk for auctioneer Stan Scott and others, shipped livestock for the Pool, loading them onto rail cars, helped to deliver coal around Turtleford by unloading rail cars, threshing, milking twelve cows by hand to sell to the Mervin Creamery, custom hauling cattle to the North Battleford Stockyards with a one-ton GMC and caretaking of the skating and curling rinks with Ed Chambers. He bartended in the winter at the Turtleford Hotel and later the Blackthorn Inn. When he was semi retired he took on guard duty with the RCMP in Turtleford.
At the same time Jack was also on numerous boards and belonged to several organizations. The Co-op Board for over thirty years, Credit Union, Agricultural Society, TADRA, Councillor of the RM of Mervin, Library Board, Rural Telephone Board, Wheat Pool, secretary/treasurer for the curling rink for fifteen years and The Royal Canadian Legion Mervin, Turtleford and Livelong Branches where he served in many offices and was awarded a life membership.
He delivered Meals-on-Wheels to as he liked to say, "the old people". As the years went by he was older then some of the people he delivered to. He was retired against his will after his second heart attack.
Jack led a busy and rewarding life. In 2001, at the age of 81, he took his first trip to Vancouver and Victoria to his niece's wedding. It was the first time he saw Pacific Ocean. That trip kindled his travel bug. Next on the agenda was Churchill, Manitoba, the tour of the grain terminal was his second as he toured the Thunder Bay terminal with his cousin who worked there in 1942, when he was on leave. He went to England more than once to visit with his daughter Evelyn, the grandchildren and great grandchildren. Several family members went with him to Nova Scotia, to tour and to visit where his mother Olive was born and lived until she came west to marry his dad. In his eighties he took a sail on the Bluenose, was an extra in a mini series on Tommy Douglas whom he met and admired in the 50's. He and his team took first place in Legion Provincial Bowling.
In his 90's came the big tour of France, Belgium and the Netherlands. He saw Vimy Ridge, Beaumont Hamel, Passchendaele, Dieppe and went back to Juno Beach, Caen, Arnhem, Nijmegen. He visited the grave of Sgt Bacon, the best damn sergeant of the Canadian Army at Beny-Sur-Mer. Jack rode in the back of restored Canadian Army trucks waving to crowds of 100,000 in Wageningen and Apeldoorn. That was the end of the big journeys. There were trips to Water Valley outside Calgary, Medicine Hat, Stettler where the train he was on was robbed by masked bandits, followed by turkey supper and pie. He rode a horse in Jasper National Park, visited Manitou, went several times to Taste of Saskatchewan and of course every Fall Supper around.
He never lost his sense of humour, his kindness, his appreciation of life and his mischief making.
Farewell Dad, Grandpa Jack, G-Pops, thank you for all the memories.
Donations in memory of Jack may be made to the Turtleford Residents Fund or Livelong Legion Poppy Fund.