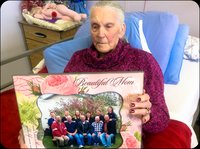 May Prodgers
Robina May Prodgers passed away at Dr. Cooke Extended Care, Lloydminster, Alberta on Monday, November 27, 2017 at the age of 88 years.
May is survived by: her children, Val (Richard) Anderson, Lorne (Rosaline) Prodgers, Brian Prodgers, Wayne (Lianny) Prodgers, Dianne Percival, Linda (Ron) Ross, Janet (Marvin) Gustafson, Cathy (Bob) Corpe and Nancy Prodgers; her 2 sisters, Beatrice Buettner and Florence Bossert; her 2 sisters-in-law, June Ruff and Marion Mainville; her 38 grandchildren, 43 great grandchildren and 1 great great grandchild; and numerous nieces, nephews and friends.
May was predeceased by: her 2 sons, Irvin Prodgers and Earl Prodgers; her two grandsons, Derek Prodgers and Dana Fair; her parents, George and Annie Reid; and her 9 brothers and 3 sisters.
The Memorial Service for May will be conducted form the Grace United Church, Lloydminster, Alberta on Friday, December 1, 2017 at 11:00 AM.
Donations may be made to the Alzheimer's Society of Canada, Heart & Stroke Foundation or Charity of Choice.
May's memorial card can be viewed or downloaded from the link below.
https://indd.adobe.com/view/35b47e8a-cdca-4d9e-9def-da54a5f698f5