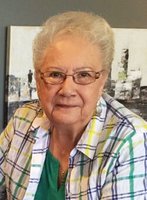 Velda Marlene Heidel
Velda Marlene Heidel passed away suddenly at home on November 29, 2017 at the age of 76 years.
Velda is survived by: her loving husband of 58 years, Louis; her children, Cliff (Cindy), Tom, Colin (Kona), Darryl, Lisa (Brad), Rick and Ron (Kathy); her grandchildren, Alex, Kim, Hanna, Jessica, Allyssa, Shauna, Matthew, Eric, Alaya, Allyson, Chad (Fiona) and Kyle (Natasha); along with her six great grandchildren.
The funeral service for Velda will be held from St. Anthony's Roman Catholic Church, Lloydminster, Alberta on Tuesday, December 5 at 1:45 PM.
Donations in memory of Velda may be made to Charity of Choice.
Velda's funeral card can be viewed or downloaded from the link below.
https://indd.adobe.com/view/f2786a8c-3345-4b8e-872c-aecef53c3fb1