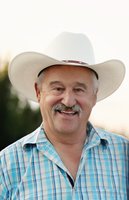 Frank Mann
Francis "Frank" Mann
Francis James (Frank) Mann, 72, of Lloydminster, Saskatchewan passed away on December 28, 2017 suddenly at his home.
Frank was born in Lloydminster to George "Pete" and Dorothy (Ogram) Mann.
Frank is survived by his loving wife and soul mate, Candy Mann, his children Colby and Diedre Mann and their two children Jaxson Dusty and Sawyer Rebecca, Jessie Mann, Brue Mann and his partner Kiara Stasiuk. Also his loving siblings, sister Eveleen and her husband Len Long, and their children Dorothy (Pete), Ron (partner, Noel) and Alan (partner, Jennifer), brother George and his wife Marilyn, and their children Merv (Ramona), Morgan (Leah), Melissa (Derek) and all their children, brothers Harold (Sherry) Jimmy and Dennis (Penny) Olsen. Sisters in law and brothers in law, Dawn and Pat Harris and their family Regan (Amanda), Ryley (daughter, Brooke) and Hannah. Maureen and Tom MacInnis and their family Brodie, Aidan and Mairead, Dwayne and partner Ronda.
Frank is predeceased by his parents, George "Pete" and Dorthy (Ogram) Mann, loving son Dusty Mann, father and mother in law, Donnie and Ruth Detchon, dear friend, Lee Coleman and all of Frank's old buddies.
The Celebration of Life will be conducted from the Stockade Convention Centre, Lloydminster, Saskatchewan on Thursday, January 4, 2018 at 2:00 pm.
Memorial donations can be made to the Hillmond Redden Centennial Arena or a cause of your choosing.
Frank's memorial card can be viewed or downloaded from the link below.
https://indd.adobe.com/view/a432e781-4d57-46c2-9be1-fd813f55d657