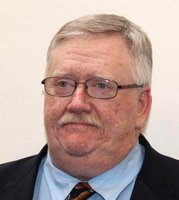 Lachlan George Cummine
Lachlan Cummine passed away at the Lloydminster Hospital, Lloydminster, Saskatchewan on Monday, January 1, 2018 at the age of 63 years.
Lachlan is survived by: Theresa, wife of 43 years, and their three children Ann-Marie (husband Issa and daughter Malika), Angela (husband James, daughters Madalynn and Isla, and son Nathan), and Philip (fiancee Fiona and step-son Jacob), his mother Dolores, and his sisters Dolores (Roy) Kuziw, Heather (John) Googins, Gerri (Doug) Madill, Marian (Lloyd) Steinkey, and their families.
The Memorial Service for Lachlan will be held on Friday, January 5, 2018 at 2:00 PM at Grace United Church, Lloydminster, Alberta.
Due to allergy reasons, in lieu of flowers, donations in memory of Lachlan may be made to the Lloydminster Masonic Lodge or Charity of Choice.
Locky's memorial card can be viewed or downloaded from the link below.
https://indd.adobe.com/view/1a215d79-3355-4754-b62c-cac70a810a3c