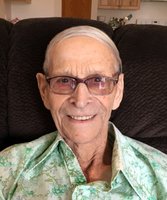 Virgil "Bud" Scott
Virgil "Bud" Scott passed away at the Maidstone Health Complex, Maidstone, Saskatchewan on Thursday, January 4, 2018 at the age of 95 years.
Bud is survived by: his loving wife of 64 years, Lavina; his daughters Marilyn (Garry) Taylor, Beverley (Dwayne) Lyons and Connie (Murray) Brausse; his six grandchildren, Tanya (Sheldon) Rhinehart, Tari (Jared) Rutley, Cody (Geraldine) Lyons, Marty (Luetta) Lyons, Jennifer Brausse and Melissa Brausse; his eight great granddaughters, Jadyn, Kabrie, Ella, Georgie, Blake, Monica, Brooke and Hailey; his sister, Thelma Lundell and sister-in-law, Kay Scott.
Bud was predeceased by: his parents, Sherman and Bertha; his three brothers, Gerald, Harold and Chester; his 2 sisters, Viola and Lilias; his granddaughter, Tracy Taylor; his niece, Cheryl Scott; and his nephews, Terry Scott and Kenneth Scott.
The Memorial Service for Bud will be held on Tuesday, January 9, 2018 at 11:00 AM from the Maidstone United Church.
Donations is memory of Bud may be made to the Maidstone Health Complex or charity of donor's choice.
Bud's memorial card can be viewed or downloaded from the link below.
https://indd.adobe.com/view/0f7ae47a-f5a0-4884-ba2c-486ef09b25e7