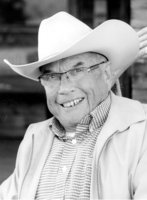 Peter Laurence Bygrove
Peter Laurence Bygrove of Hillmond, Saskatchewan passed away peacefully on January 3, 2018 in Lloydminster, Saskatchewan at the age of 76 years.
Peter was born in Lloydminster to Howard and Kathleen Bygrove on September 1, 1941.
Peter leaves to cherish his memory: his loving wife, Trudy; his sons, Todd and Sue and their daughter, Shelby; Trevor and Corrie and their children Jack, Ben and Erin; Travis and Rachelle and their sons Levi, Corb and Nate; his brother Raymond; brother-in-law Wayne and Kathy Mercer and family; Goddaughter, Casey and Shaun Morton and son, Mason; his treasured neighbors, friends, Lloydminster Exhibition and 4H families.
Peter was predeceased by: his parents, Howard and Kathleen Bygrove, and his father-in-law and mother-in-law, Tom and Wilda Mercer.
At Peter's request, there will be a private family Celebration of Life.
Peter was a devoted family man, steward of the land, proud hereford breeder, man of his word, friend to all and a true gentleman who leaves a legacy of love and honour.