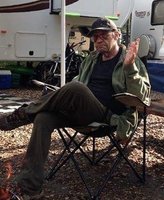 Clifford Lawrence "Cliff" Meier
Clifford Lawrence Meier, age 62 of Maidstone, SK, died on January 5, 2018 at Lloydminster Hospital, Lloydminster SK.
Cliff was born on May 10, 1955 in Kerrobert, SK. He was the first son and forth child of Lawrence and Maria Meier. Cliff was predeceased by his father, Lawrence, in 2001.
Cliff is survived by: his mother, Maria; and 8 siblings, Diane (Bill) of Kitscotty, Shirley (Roger) of Saskatoon, Linda (Bernie) of Maidstone, Kevin (Dawn) of Prince Albert, Ken (Chris) of Saskatoon, Greg (Shelley) of Saskatoon, Colette (Kevin) of Calgary and Annette (Paul) of Shellbrook; 18 nieces and nephews, as well as 13 great nieces and nephews.
Cliff loved and had a special bond with all of his family even though he never married or had children of his own. He will be missed by many.
Anyone who knew Cliff knows he had a love for fishing, camping, building projects, music, watching hockey and the Riders. He had many hobbies that kept him busy and around his family and friends. Cliff was diagnosed with cancer in August of 2017 and passed away from the disease four short months later.
As per Cliff's request, a graveside service will be held at a later date. Cliff's eternal resting place will be with his father in the Maidstone Cemetery.