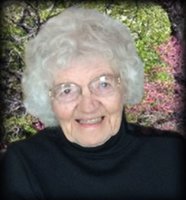 Joy Almond
Joy Avice Almond, beloved wife of Edward Almond, passed away peacefully at home on Saturday, January 27, 2018.
She was born in Lloydminster, SK, on August 5, 1929 and after three older brothers she was truly a 'joy' to her family. At the age of three, the family moved to England where they lived through the war years in East Grinstead. They returned to Lloydminster in 1948, where she married Edward Almond on May 19, 1955. In 1956 they moved to Athabasca, AB, where they resided until retiring to Kelowna, BC., in 1987. In 1990, they moved to a farm just outside of Blackfoot, AB, before settling in Medicine Hat in 2003. Throughout her life, Joy was a florist, telephone operator and medical receptionist, but her most cherished job was as a wife, mother and grandmother. Joy suffered a brain aneurysm 30 years ago but she was determined to regain her independence which was an ongoing struggle.
Joy is survived by her husband of 62 years, Edward; children, Catherine (Aidan), Teresa (Perry), Christopher (Pat); grandchildren, Avice DeKelver (Devon), Aaron DeKelver, Sydney Almond, Ethan Pelensky and Matisse Pelensky.
She was predeceased by her parents, Gerald and Elsie Laws; Ed's parents, Joseph and Ruby Almond as well as three brothers, Alan, Stuart and Bill Laws.
The Funeral Mass was celebrated at St. Patrick's Roman Catholic Church, 238 - 2 Avenue N.E., Medicine Hat on Wednesday, January 31, 2018, at 2:00 p.m., with Father Alphonse Narisetty celebrant.
Interment will take place at the Lloydminster City Cemetery, Lloydminster, SK, on Tuesday, February 6, 2018, at 11:00 a.m.
If friends so desire, memorial donations in Joy's name may be made directly to St. Patrick's Parish, 238 - 2 Avenue NE, Medicine Hat, AB, T1A 6A1.