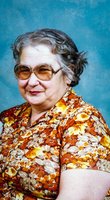 Donna Dach
Donna Dach passed away at the Dr. Cooke Extended Care, Lloydminster, Alberta on Saturday, February 3, 2018 at the age of 88 years.
Donna is survived by; her sister, Elizabeth Cherniwchan of Abbotsford, BC; her brother, Marshall (Vicki) Triska of Vegreville, AB; her five children: Harry (Elaine) Dach of Lloydminster, AB; Christine Dach of Red Deer, AB; Ernest (Edna) Dach of Ardrossan, AB; Edward (Susan) Dach of Lloydminster, AB; and Patsy (Alan) Nygren of Airdrie, AB; her five grandchildren: Nadine, Jeremy, Crystal, Jeffery, and Tyler; as well as numerous nieces and nephews.
Donna was predeceased by: her husband, Bill; her parents, Peter and Kate Triska; and several brothers and sisters.
The Funeral Service for Donna will be conducted from McCaw Funeral Chapel, Lloydminster, Alberta on Wednesday, February 7, 2018 at 11:00 AM.
In lieu of flowers the family requests donations to be made to the Alzheimer's Society of Alberta.
Donna's memorial card can be viewed or downloaded from the link below:
https://indd.adobe.com/view/9d877cff-7b78-450c-8241-3e2b3bf3c6cf