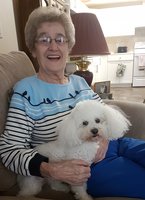 Eileen Edna Floen
Eileen Floen passed away at the Lloydminster Hospital, Lloydminster, Saskatchewan on Monday, February 5, 2018 at the age of 83 years.
Eileen is survived by; her oldest son, Perry (Louise); grandsons, Levin Floen and Tanner Floen; her granddaughter, Tarah Eagle (John); great grandsons, Jackson, Nathan and Samuel; grandson Landon Floen (Amanda Shore); great granddaughter Bela; ; her step-grandchildren, Jessie Hnatiuk (Cassandra Cervantes), Hayley Hnatiuk; great granddaughter Nyura; Naomi Hnatiuk (Justin Loree); great grandson, Jaxson; her youngest son, Kirby (Dawn); her brother, Larry (Margaret) Michel of Las Vegas, Nevada; her brother-in-law, Leroy Tait of Edson, Alberta; and her nieces and nephews.
Eileen was predeceased by her husband, Lionel and her parents, Anthony and Betty Michel.
The Funeral Service for Eileen will be held on Monday, February 12 at 11:00 AM from St. Paul's United Church, Oxbow, Saskatchewan.
Because of her many philanthropic interests donations in memory of Eileen may be made to the charity of donor's choice.
McCaw Funeral Service Ltd., of Lloydminster, Alberta and Redpath Funeral Services Ltd., of Oxbow, Saskatchewan administered the funeral arrangements.