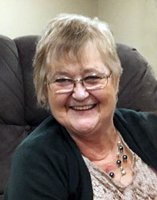 Judith Wilson
Judith Margaret Wilson passed away at the University of Alberta Hospital, Edmonton, Alberta on Wednesday, February 21, 2018 at the age of 70 years.
Judith is survived by: her four children, Clinton Trimble (Gloria Ross) and their children, Tamara, Kirstin, Jadyn, Jordyn, Cody, Jesse and Dalton; Kimberley Trimble (Keven McKay) and their children, Chelsea, Kyna, Kieran, Jace and Coby; Wade (Melanie) Trimble and their children, Becca and baby; Lynn (Fred) Sirett and their children, Lily, Luke and baby; her three great grandchildren, Dominic, Aadyn and Quinn.
Judith is predeceased by: her mother, Peggy Teeling; and her father, Peter Squarek.
The Memorial Service for Judith will be conducted from St. John's Anglican Church, Lloydminster, Saskatchewan on Friday, March 2, 2018 at 2:00 PM.
Donations in memory of Judith may be made to Charity of Donor's Choice.
Judith's memorial card can be viewed or downloaded from the link below:
https://indd.adobe.com/view/1f2e51f8-c885-4b23-a936-afb76a875837