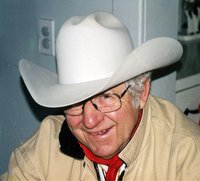 Glen Detchon
Glen Earlton Detchon passed away at the Lloydminster Hospital, Lloydminster, Saskatchewan on Thursday, March 1, 2018 at the age of 88 years.
He was born in Lloydminster, Saskatchewan on December 10, 1929 to Earl and Annie (MacDonald) Detchon. He resided on Reilly Lake Ranch most of his life. He married Hazel Clark on April 6, 1951. Their children also reside on Reilly Lake Ranch.
Glen is survived by: his loving wife, Hazel; his son, Ronnie (Jackie Weighill) Detchon and his daughter, Sheryl Detchon; his three grandchildren, Aimee (Trippett) McKnight, Jordie (Barb Cate) Detchon and Tagen Detchon; his five great grandchildren, Gage and Kane McKnight and Rylan, Caleb and Amelia Detchon; numerous nieces and nephews; and many friends.
Glen was predeceased by his siblings: Verna Valentine (in infancy), Donny (Ruth) Detchon and Dixie (Ray) Scott.
In keeping with Glen's wishes a Celebration of Life will be held at Jumbo Hill on Sunday, May 20, 2018 at 9:00 AM.
Donations in memory of Glen may be made to the Lloydminster Handivan Society or to the donor's charity of choice.
Glen's memorial card can be viewed or downloaded from the link below.
https://indd.adobe.com/view/1ccea659-4ee7-41b1-a6b7-6e07b235edaa