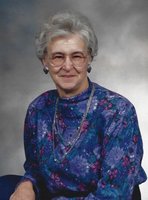 Cynthia Donald
Cynthia Elizabeth Donald, nee Squair- January 3, 1925- April 3, 2018
Cynthia was born to C.R. (Jim) and Beatrice Squair (nee Wilkinson) in the R.M. of Paynton at the farm home of her Wilkinson grandparents on January 3, 1925. She was raised in the Bear Island district north of Waseca. After completing grades 11 and 12 in Maidstone she attended Normal School in Saskatoon. She taught at rural schools for 5 years before marrying Hamish Donald on October 26, 1948. Cynthia and Hamish farmed south of Maidstone, raising 3 children. They enjoyed getting to know folks from many countries through their involvement in the International Agricultural Exchange Association. Old-time dancing and travelling en-livened their leisure time.
Four grandchildren enriched their lives before Hamish died in 1988. Cynthia welcomed a 5th grandchild and 3 great-grandchildren.
Cynthia was a skilled seamstress, quilter, knitter and crocheter. She enjoyed her large garden, picking berries, and making bread. She was active in the Idanell Community Club, St Andrew's Anglican Church, and Communities in Bloom. Cherishing her connections with others, she relished a good visit or a friendly exchange.
In October 2008, Cynthia took up residence at Luther Riverside Terrace in Saskatoon where she became an active member of that community and forged many new friendships. Ten months ago, Cynthia moved to Luther Special Care Home where she died on April 3, 2018. Her family is grateful to LutherCare staff and residents for the compassionate care and loving community she experienced at the Terrace and the Special Care Home.
She leaves to treasure her memory, daughter and son-in-law Noreen Donald and Bryan Tastad, son Ira Donald, son and daughter-in-law Greg and Janet Donald , grandchildren Michael (Lori) Donald, Ericka Donald (David Robson), Lauren Tastad (Clayton Linthicum), Adrienne Tastad (Tom Brannen), James Tastad, great-grandchildren Jack Donald, Macy Donald, and Ada Robson, brothers and sisters-in-law Eric and Norma Squair, Hugh and Melitta Squair, Ian and Vivian Squair, in-laws Gordon Donald, Laurie and Connie Donald, and many nieces, nephews, cousins, and friends.
Cynthia was predeceased by her parents, her husband, brothers Dennis Wilkinson and Win, Ernie Squair and Faye, sister Betty MacLean and Norman, niece Carol Hickson, in-laws Jack and May Donald, Elma Courtice, Hazel and Sim Morrow, Vi and Walt Johnston, Ella and Len Arscott, Dood and Del Donald, Eleanor Donald.
Donations in memory of Cynthia can be made to the Charity of the Donors choice.
A memorial service will be held in the Maidstone United Church on Thursday, April 12, 2018 at 2:00 pm.
Cynthia's memorial card can be viewed or downloaded from the link below.
https://indd.adobe.com/view/be578a51-f378-4197-908d-a5eec359bacb