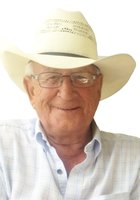 Ernest "Ernie" Goulet
Ernie Goulet was born on Dec. 2, 1930 on the Goulet family farm in Neilburg, Saskatchewan and passed away peacefully in Maidstone, Saskatchewan on April 11, 2018 surrounded by his family.
Ernie is survived by his special friend Anne Reid and his five children: Rick Goulet (Cindy); Rhonda (Dave) Stasiuk; Paul (Gail) Goulet; Kimberly Goulet (Jack); Vonnie (Richard) Bosch; his two stepchildren, Mike (Marilyn) Belick and Lori (Darren) Anderson and the following grandchildren: Jason (Sara) Goodfellow, Tanner Goulet (Jessica), Brenna (Jamie) Elliott, Jessica Mann; Jordon Stasiuk (Stacey); Ryan (Erin) Stasiuk; Marshall (Danielle) Stasiuk; Orry (Sheena) Goulet; Shad Goulet; Reilly Longlitz; Haley Longlitz; Torry Longlitz (Ali); Jasmine Bosch, Jenna Bosch (Bruce) Kaylee Anderson (Cole), Brett Anderson( Caitlyn) and the following great grandchildren: McKenna, Madison, Brooklyn, Georgia, Aria, Samara, Trinity, Tyson, Dekker, Walker, Fynn, Lennon, Lily, Julia, Nora, Eric, Sage and Rya; his brothers and sisters; Art, Bert, Bertie, Elmer, Louis, Russell, Cecille, Lucille, Lloyd, Phyllis, Derril, Darlene, Yvonne and Robert.
He was predeceased by his parents, Phidime and Mabel Goulet and brothers, Leonard and Leon and sister, Elma. He was also predeceased by the mother of his children, Jackie Haugen, and his long-time companion, Laura Belick.
Funeral services will be held in the Neilburg Community Hall on Monday, April 16, 2018 at 2:00 pm. In lieu of flowers, donations can be made to the Pine Island Suites, Maidstone, or to the charity of your choice.
Ernie's funeral card can be viewed or downloaded from the link below.
https://indd.adobe.com/view/a25b3064-93b7-4916-86d1-f83db1a10ae3