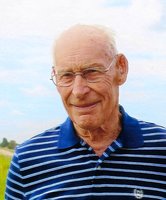 John Knowlson
John Dean Knowlson passed away at the Jubilee Home, Lloydminster, Saskatchewan on Thursday, April 12, 2018 at the age of 89 years.
John is survived by: his loving wife, Irene Knowlson; his children, Marilyn (Paul) Vermeulen, Elaine Knowlson (Keith Fournier) and Chris (Kevin) Frank; his grandchildren, Sherri (Jason) Cummins, Holly (Dave) Murray, Melissa (Jason) Dussault, Alex (Travis) Lyle, Brendan Vermeulen (Nancy), Christopher Vermeulen, Jonathon Gagne, Zach Frank and Rylee Frank; his nine great grandchildren, Aurora Cummins, Mavis Cummins, Paityn Murray, Ainsley Murray, Hudson Murray, Scarlett Dussault, Quinn Dussault, Aubree Dussault and Graham Lyle; his brother, Raymond Knowlson; and numerous nieces and nephews.
John was predeceased by: his parents, Ernest and Edith; his sister, Connie and Walter Acaster; sister-in-law, Muriel Knowlson; brother-in-law, Harold Roebuck; and nephews, Lyle Curtis and Rick Sheppard.
The Memorial Service will be conducted from the Grace United Church, Lloydminster, Alberta on Friday, April 20, 2018 at 11:00 AM.
Donations in memory of John may be made to the Heart & Stroke Foundation, M.S. Society or donor's charity of choice.
John's memorial card can be viewed or downloaded from the link below.
https://indd.adobe.com/view/24753c79-613b-4f50-b457-7485ac3b8057
EULOGY ~ by Kevin Frank and Paul Vermeulen
Thank you for being here today. We are honoured to share memories and celebrate the life of John Dean Knowlson: Husband, Father, Grandfather, Great Grandfather, Brother, Uncle, Neighbor, Friend.
John is our Father in law. He gave us permission to marry his daughters: Paul Vermeulen married to Marilyn and Kevin Frank married to Chris.
John was born July 27, 1928 to Ernest and Edith Knowlson at Lloydminster Hospital and he passed away peacefully April 12, 2018 at Jubilee Manor, Lloydminster. In between these two dates a lot of things happened and we will try to relate some of those things to you this morning. Having said that, John was a private kind of person and so we hope for his forgiveness if we share more than he might think appropriate!
John was a child of the 30's, a challenging time for many prairie families. Then the Second World War began and John's father Ernest returned to the service leaving a teenage John responsible for the farm and to help his mother. John soon found challenges where he needed to find solutions; he would write to his dad for advice but replies would often come long after solutions were required. These early years established his reputation as a reliable worker, as a hard worker and a person who had the uncanny ability to find or create solutions. He was tough yet pliable like a young tree.
Even as a young man John kept notes and took pictures of his work. His early years chronicled the threshing crews he worked with, farmers he worked with clearing bush with axes and breaking land with plows, his wages, his first trucks and his first tractor with steel wheels, later changed to rubber. John talked about his early years with pride; everything he had he earned.
It seemed that John worked 7 days a week, 24 hours a day… but John did share a few stories when he may have found himself on the edge of trouble; I loved how his eyes sparkled every time he talked about 'the' Halloween night; the night shotguns were fired over the heads of pranksters hiding in the shadows and how the town of Lone Rock awoke to barricades of outhouses. Harmless fun he always clarified.
In the early 1950's polio was epidemic. In 1952 John found himself diagnosed with polio and had his leg casted. This may surprise some of you but John disagreed with his Dr. Instead of keeping his leg in a cast John promptly cut off his cast and started to walk and make his leg work - we could say John was an early physiotherapist and no pain no gain took on a whole new meaning. Besides, harvest was coming and he couldn't combine with a cast. Also, he had discovered Irene and he wasn't sure if she liked the cast. In later years, a doctor told him his actions probably ensured he continued to have use of his leg.
Then life really changed for John when, on July 3rd, 1953, he and Irene were married and 10 months later, Marilyn arrived. His family tree was beginning to grow, so John worked even harder to ensure the roots of his family tree would be deep and able to weather any future storms. John so loved his family and he loved farming, he loved being on the land and working with animals. He proudly pointed out that the barn he built at that time is still as square today as it was when he built it. But, John had allergies and he was forced to find other work.
What an opportunity for Beaver Lumber Lloydminster! If you ever rode with John he would point out some of the houses he built back in the early 60's; smile his smile and you knew that those were the strongest, most square houses ever built in the border city. During this time, the family also grew when Elaine was born!
John started as a carpenter but rapidly progressed into management with Beaver and was eventually offered a promotion to a larger centre in the south but, for family reasons, he decided not to pursue that opportunity and instead, in 1964, the family moved to Lashburn where he started Lashburn Lumber, bought a half section, and the family grew again with the addition of a third daughter, Chris!
He had combined all of his passions in life: family, building, and farming. Being in a small town business John knew the importance of supporting and building his community, John knew the needs of customers and the customers knew they were getting great value for their dollars; John's business flourished as his client base was built on his strength of character; for obvious reasons people trusted John. John's people management skills and his head for numbers continued to open up business opportunities for him. If we fast forward to the mid 70's we find John as the manager of a multi million dollar alfalfa dehydration plant and feedlot. John knew the importance of hiring good people and earning the trust and respect of his employees. Once again
John was ahead of the curve on his hiring practices - John hired many local First Nations people and gave many a young man their first jobs. To help ensure his employees were ready and able to put in a good day's work John built a camp kitchen for his employees. Lots of great meals and laughs came out of that kitchen.
As the Saskatchewan Alfalfa Group grew John took on leadership and marketing duties. The marketing role provided John the opportunity to travel to Venezuela and Japan. Unfortunately difficult political, economic and environmental conditions resulted in the sale of the dehyd plant in 1981.
Through the early 80's John took a marketing job with CanMar Grains and worked out of Regina. From 83 to 88 he was the regional fertilizer manager for Sherritt Gordon Mines.
As John passed the age of 60 and up to the age of 88 he semi-retired as a part time farmer, part time construction worker, part time mechanic, part time engineer limiting his work weeks to 70 hours.
It may seem like John's life was all work and no play… But, it wasn't. John loved being and playing outside in both summer and winter. Summertime fun in the 1960's and 70's was about camping and enjoying SK lakes; John the engineer first designed and built his own truck camper before he purchased a fifth wheel to increase the comfort for his girls as they spent days up at Loon Lake. Fun didn't stop during winter; John was known to enjoy getting out on his snow machines when conditions were right. He also had a bit of a competitive streak and so I am sure there were some epic races.
John was a lifelong learner, rarely afraid to try a new challenge. In the 1970's John decided he should learn to ski - cross country and downhill. There are stories of John out on the Kimberly cross country trails showing Marilyn and Elaine how not to take a turn at the bottom of a hill and a downhill skiing wipeout that nearly took out an entire line of skiers waiting to get on the ski lift. Some of John's lessons were do as I say and not as I do.
Being with family and helping family was always a priority for John. All of John's girls, especially Irene, were the beneficiaries of his design and carpentry skills. Unfortunately for Irene some of those renovation projects started after the Christmas cleaning was already done. John and his construction tools put on thousands of miles; family houses in Loon Lake, Kimberly, Marysville, Red Deer, Lacombe and his own homes in Lloydminster all have a part of John in them.
John truly enjoyed watching his girls and his grandchildren participate and compete in numerous music and sporting events. John may not have been the best dancer but he loved listening to music, especially music played by Irene or one of his girls.
For the past 40 years John enjoyed time with his grandchildren. John loved camping with them, playing cards with them, going to museums with them, making them smile. John himself had a huge smile but he also had a mona lisa smile and combined it with eyes that would twinkle and make you wonder what he was thinking or planning.
There was a Holtby Christmas where John gave Irene, or Foxy as he called her on special occasions, the gift of lacy lingerie that she opened in front of the grandkids; this may have been on of those full blown smile times.
John was also a teacher; I remember watching him work with a young Jonathon when we camped together, teaching him how to handle an axe how to make kindling and how to safely chop firewood.
John spent hours on the water in canoes and kayaks, always respecting the water and enjoying the peaceful moments on lakes and rivers. Rylee may beg to differ that all canoe trips were peaceful, in particular there was that time she ended up under a canoe on the North SK river.
Christopher remembers John's love for history and enjoyed trips to museums. Chris was amazed that John knew how everything worked and passed that knowledge on. John loved to have conversations about current events. Sherri remembers talking politics with grandpa and knowing she would need to be prepared to defend her position.
Zach remembers playing cards with grandpa and the look in his eyes when Grandpa would catch you or you would catch him with a fist full of cards during a game of 11 pennies.
John's passion for farming never left him. In 1998 he sold his Lashburn land and purchased land up by Spiritwood, this was his North Haven. John's grew hay crops and worked crop rotations for his North Haven land in an attempt to get it organic certified. In 2003 John took the opportunity to purchase land in the Lone Rock area just down the road from his homestead. John sold his North Haven land and made one last farming move. There were several challenges in this move; one being how to get his combine home, the obvious John solution was to drive it home at a time that would cause the least problems for other drivers; so he drove through the night only to get stopped by RCMP in Lloyd and he was forced to park the combine with only 20 miles to go.
John has always been a problem solver and had a mechanical engineer's aptitude. One of his early projects was adding a gas motor to the washing machine he bought for his parents in 1947. Then in 1948 he purchased a 1931 chevy coach that he chopped shopped into his first half ton. Over the years John designed systems that would allow him to complete jobs independently that most people would have needed help with. Working alone wasn't always in his best interest as he lost a few battles with gravity and earned a few extra scars along the way.
Throughout his life John accomplished many things in non conventional ways. John's girls grew up when expectations for female careers were very traditional. This is not what John wanted or expected for Marilyn, Elaine and Chris. He encouraged the non conventional careers, he wanted his girls to push boundaries, to challenge the status quo to, to compete. John instilled competition in recreation and work with his family: fastest down the ski hill, throw the hardest ball, mow the most lawn.
John was a humble man. He was often involved in the background making sure what needed to be done was taken care of but never wanting any thanks or public acknowledgement.
John was a moral compass; his word and his name were everything to him. Every job that he undertook he put his heart and soul into. As parents we only hope our children and our grandchildren grow up with the same moral fibre that bound him.
This past week we had the opportunity to reminisce about John the farmer, the carpenter, the engineer, the human resource manager, the ecologist, the activist. But most of all it was it was therapeutic to remember John Dean Knowlson the husband, the father, the grandfather, the brother, the neighbor, our friend.