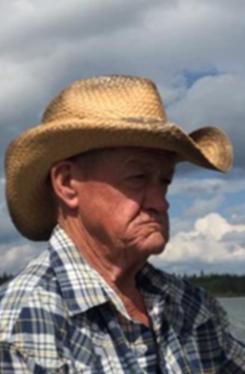 In Memory of
Glenn "Tinker" Florence
1941 - 2016
Obituary of Glenn "Tinker" Florence
Florence, Glenn Allen (Tinker)
1941-2016
It is with great sadness that we announce the passing of Glenn Allen (Tinker) Florence of Rocky Mountain House, AB. Tinker passed away very suddenly on December 13, 2016. Tinker was born in Cut Knife, SK on September 19, 1941 to Glen and Helen Florence.
Tinker is survived by his loving wife Georgette of 36 years, two sons: Todd (Anita), Greg, his step-son Kevin (Brooke) Ranger and his step-daughter Karyn (Arlen) Hoglander; 10 grandchildren: Amanda-Lee (Dillon) Florence, Randy Florence, Kassandra Florence, Ceanna Florence, Gena Florence, Kylie (Adam) Gunderson, Taylor Hoglander, Tyneel Hoglander, Cassidy Ranger, Spencer Ranger and 6 great grandchildren plus numerous nieces and nephews. He also leaves behind his brothers: Barry, Terry (Deanna), and Kim (Margie); one sister Wendy (Grant) Cheley and sister-in-law Wendy Florence. And of course, another family member, his beloved cat Skootch (more often called "Shithead")!
Tinker was predeceased by his father and mother Glen and Helen Florence, his sister Patsy and his brother Ken.
Tinker was always a hardworking man and loved working with his pickers and cranes. He worked at various jobs in Armstrong, BC where he first got into the "picker" line of work. He also worked in Lloydminster for a time, and then moved to Rocky Mountain House where he and his wife bought the business of O & S Crane Service Inc. in 1998 and spent the next 17 years building the business and making friends. He then retired from the business in 2015 at the age of 75 years.
Tinker had a love for the outdoors, camping, quading, hunting and fishing! He loved sitting by the fire with good friends and family after a fun-filled quading day in the west country trying to find the next big mud hole to get stuck in, and at times, taking passengers with him in his side x side quad whether it was a big dog or someone on crutches - you were then his riding buddy for the day! He loved getting together with his 3 boys to go on a hunting trip together and he would always be looking for the best moose or elk he could find.
Tinker was always famous for sitting quietly by and listening to the conversations and smiling. He always looked at the bigger picture and was thankful and appreciative just to enjoy life to the fullest. Tinker would always give a helping hand to anyone in need and very generous to everyone. He was a shoulder to lean on, a hand to help and a person to hug when you needed it.
His wife, family and friends were everything to him and he was the rock for all of us. He will be missed and loved by many!
A Celebration of Tinker's Life will be held in the New Year at the Chapel of the Rocky Funeral Home, Rocky Mountain House, Alberta on Saturday, January 21, 2017 at 2:00 PM. Cremation entrusted to the Rocky Mountain Crematorium, Rocky Mountain House.
As an expression of sympathy memorial donations may be made in Glenn's (Tinker's) name to the Heart and Stroke Foundation.
Condolences may be forwarded to: www.rockyfuneralhome.ca
Flinn Funeral Services operating as Rocky and Sylvan Lake Funeral Homes, your Golden Rule Funeral Homes, entrusted with the arrangements. 403-845-2626
Interment will be held on Saturday, May 20, 2017 at 2:00 PM at the Lloydminster City Cemetery, Lloydminster, Saskatchewan. There will be a lunch held at the Moose Lodge immediately following the interment.
5101 - 50 Street
Lloydminster, Alberta T9V 0M2