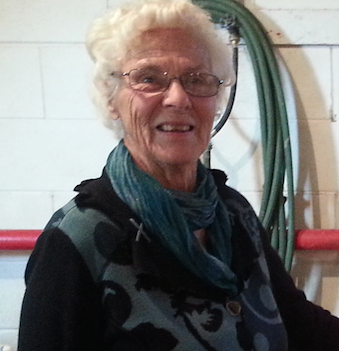 In Memory of
Pamela Victoria Ann Leachman
1933 - 2017
Obituary of Pamela Leachman
Pamela Victoria Ann Leachman passed away at Pine Island Lodge, Maidstone, Saskatchewan on Friday, August 4, 2017 at the age of 83 years.
Pam is survived by: her son, Gordon (Sally) Leachman of Salmon Arm, BC; her daughter-in-law, Frances Leachman of Maidstone, SK; her grandchildren, Lance (Sheri) Leachman and Tyler (Amanda) Leachman of Maidstone, SK, Daegan (Joseph) Coyne of Kingscliff, Australia, Ryan Leachman of Houston, Texas and Allie Leachman (Dylan Browning) of Kelowna, BC; great granddaughter, Harlyn Coyne; sisters, Joyce Skoolrood of Lloydminster and Shirley Mahoney of Saskatoon.
Pam was predeceased by: her husband, Robert Lloyd Leachman; her son, Douglas Robert "Buddy" Leachman; her parents, Patrick Douglas Mahoney and Betty Joyce Mahoney; her brother, Martin Mahoney.
In keeping with Pam's wishes, no service will be held.
Pam's love for the Gully was known by all, born and raised there herself and caring for her own children, horses and cattle thereafter. Her horses were a huge part of her life, taking her to some amazing places with dressage, jumping and 4-H, and meeting some incredible people along the way.
Donations in Pamela's memory can be made to Big Gully Farm Learning Award (attention Frances Leachman) or to a charity of the donor's choice.
Eulogy ~
Pam was born in the Standard Hill district to Doug and Betty Mahoney.
Pam's love of horses came at a very early age on the farm in the Standard Hill district. From the working of the horses on the land, and with her Dad having the big Percharon Stallions for breeding stock, and saddle horse's used for transportation, school and herding cattle, horses have always been a huge part of her life,
On Aug 4 1954 she married Robert Lloyd Leachman and together they farmed and raised cattle, horses and two sons on their farm north of Maidstone, and on Aug 4 2017 she picked their anniversary to join Lloyd in Heaven.
Her love of horses has taken her all over North America to horse shows, jumping clinics, dressage clinics, 4-H leader, and every kind of horsemanship course you could think of. (Many trophies' ribbons and awards) She met so many good people on her travels that shared the same desire and love of horses. Going to all the shows, sleeping in the back of the truck with stock racks on it and a tarp over the top, then graduating to the big Blue Ford and a horse trailer, never to far away from the loves of her life, the big thoroughbred Highboy, Old Silver, Silver Bell and Arabian crossbred horses from the full blood Arabian Stallion named Gully.
Packing up and taking all her grandchildren to go to horse clinics, hopeful that the passion of horses would be passed onto the next generation. It has instilled memories in all of them, of the Grandma Pam that would work hard on the farm all week, load up her horses and grandkids for a weekend clinic and still be one the best looking ladies going out for dinner that evening.
Mom's routes are deep into her farmland, solitude for her was to ride her horses threw the prairie wool; pick crocuses' in the spring, to cross the creeks of the Gully, while watching the deer, bear and moose. Nature has always been her retreat in the numerous times of deep sorrow all through out her life.
Mom's desire of horse's instilled her to write three books all about her love of horses, kids and nature. What an accomplishment, books and memories to be shared by everyone forever.
5101 - 50 Street
Lloydminster, Alberta T9V 0M2