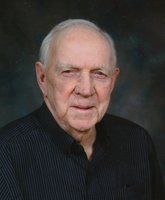 Mark Francis Weighill
Mark Francis Weighill passed away at the Lloydminster Hospital, Lloydminster, Saskatchewan on Sunday, December 17, 2017 at the age of 93 years.
Lovingly remembered and always in our hearts by his wife Vivienne of more than 67 years, six sons, one daughter, 17 grandchildren and 43 great grandchildren:
Bernie and Lee
Gerald and Mary
- Andy and Janet – Micah, Ana, Ethan
- Tony and Aleshia – Chaela, Chayce, Cameron
- Treena and Rory Trustham – Abby, Jeremy
Larry and Lois
- Tyson and son Cooper
- Greg and Tammy – Ayden, Annica, Jorie & Jason Spence – Paisley, Jessie – Sydney,
- Kelsey and Jeff Lander – Harrison, Leo
- Taylor
Wayne and Cheryl
- Angela and Brennan Bell – Dania, Cayleigh
- Aaron and Geoff Stewart - Cayden
Debbie and Bruce Kvill
- Jason and Lynn - Chloe, Hannah, Paige & Natalie
- Mark and Holly - Meghan, Malachi, Maddox, Graydon & Lincoln
- Kimberly and Jamie Guenther - Caleb, Felix & Milo
- Holly and Tyler Mercier - Kingsley & Hadleigh
Tom and Colleen
- Tyler - Taya, Kane and Katie
- Nathan and Kayla - Alexis, McKenna, Emmie
Peter and Susan
- Doug and Ashley - William & Trista
- Alex and Jackie - Rylan, Cora, & Jakoby
His brother Ken and Sheila Weighill & their families
Mark was predeceased by his parents Philip and Claire Weighill, son Douglas in 1981 and granddaughter Alison in 1983 and brothers Bernard, Wilfred and Bill.
The Memorial Service for Mark will be conducted from St. Anthony's Roman Catholic Church, Lloydminster, Alberta on Thursday, December 21, 2017 at 2:00 PM.
Donations in memory of Mark may be made to the Pioneer Patient Comfort Fund or Charity of Choice.
Mark's memorial card can be viewed or downloaded from the link below.
https://indd.adobe.com/view/c701e53a-13d0-4ea3-86d8-6f6e3b61c7b6