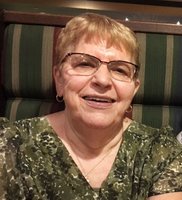 Susan Penney
Susan Mary Penney passed away peacefully at the Lloydminster Hospital, Lloydminster, Saskatchewan on Wednesday, January 2, 2019, surrounded by her loving family.
Susan is survived by: her daughters, Barbara (Gordon), Bev (Art), Amy, Marilyn and Tammy (Craig); three grandsons, Curtis (Cathy), Jarrod and Nicholas; her six granddaughters, Krista, Coleen (Greg), Katelyn (Connor), Simone, Erica (Joe), Hannah; her three great-grandsons, Micheal, Braxton and Cole; her four great-granddaughters, Anna-Leigh, Brooklyn, Ashlyn and Sarah; her daughter-in-law, Connie (Rodney); her sisters, Laura (Dick), Rudy (Cathy) and Erma; numerous nieces and nephews; honorary grandchildren, Lance, Jenesta, Sinead and Katie; and life long friend, Shirley Louise.
Susan was predeceased by: her husband, Eric Penney; her son, Morley; her granddaughter, Penni; her son-in-law, Howard; and brother-in -law, Al.
A Memorial Tea will be held in memory of Susan in Macklin, Saskatchewan at a later date. A Funeral Service will be held in Newfoundland at a later date.
Donations in memory of Susan may be made to Lloydminster Regional Health Foundation.
Susan's memorial card can be viewed or downloaded from the link below.
https://indd.adobe.com/view/292bae65-b5a0-4370-9ef4-55fccaebeecf