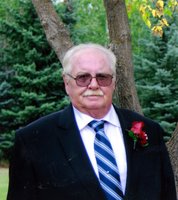 Bill Friedrick
William "Bill" Raymond Ferdinand Friedrick passed away in Maidstone, Saskatchewan on Friday, January 4, 2019 at the age of 66 years.
Bill is survived by: Betty, his wife of 34 years; his children, Ryan (Vanessa), Travis (Amy) and their children, Arayila and Alivia; his brothers, Dwayne (Carmen) and their children, Jason, Daniel and Nicole, and Dwight and his son, Raymond; his mother-in-law, Olga Saiko; his brothers-in-law, Jim (Geri) Saiko and Sam (Anita) Saiko; his sister-in-law, Gloria Green; and several nieces and nephews.
Bill was predeceased by: his parents, Raymond and Eileen Friedrick; and his father-in-law, John Saiko.
Bill's life touched many people whether farming, trucking, hunting, fishing or enjoying the sun in Mexico. Bill was a man that had an opinion on any subject or event. He was a person that would lend a hand to anyone. Bill did get a chance to take a final trip to Mexico to socialize with everyone. Bill wanted to remind everyone with chronic heartburn to visit a doctor. Many thanks to the staff of the Maidstone Health Complex Palliative Care Unit.
The family wish to thank everyone for their prayers and thoughts, and would appreciate when posting a condolence to post a fond memory of Bill with it, if possible.
A Celebration of Life in memory of Bill will be held at Marshall Three Links Hall, Marshall, Saskatchewan on Monday, January 28, 2018 at 11:00 AM.
Donations in memory of Bill may be made to Maidstone Helath Complex Palliative Care, Canadian Cancer Society, or Heart & Stroke Foundation.
Bill's memorial card can be viewed or downloaded from the link below.
https://indd.adobe.com/view/57f2d24f-4c4c-4fb3-b987-1002baf56c01