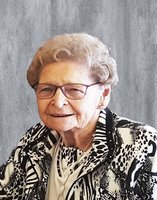 Elsie Djuff
Elsie Joyce Djuff passed away at Lloydminster Hospital, Lloydminster, Saskatchewan on Monday, February 4, 2019 at the age of 91 years.
Elsie is survived by:
her daughter, Sharon (Russell) Jacobs and family,
Troy (Loralie) Jacobs - Ashley (Sam) & Malachai, Tyler, Timothy;
Trina (Jim) Sather - Tanner (Paige), Colton, Kassy;
Traci (Matthew) Sarty - Caitlin (Barry) & Sadie;
her daughter, Dianne (Alan) Svean and family,
Angela (Russell) Leer - Dorian, Brie;
Scott (Tannis) Svean - Sydney, Colby;
Krystal (Levi) Monteith - Maddisyn, Charles;
her daughter, Eileen Steele (friend Barry) and daughter, Carla Steele - Ty;
her son-in-Law, Laurie Berg and family;
Clayton (Crystal) Berg - Logan, Brekyn, Finley, Maddyn;
Aaron (Kelly) Berg;
Kristen (Tyler) Wilson - Lexington, Scarlett, Audric, Spencer;
her siblings, Ella Elliott, Mary Hullick and Jerry (Emma Jean) Storms;
her sisters-in-law, Phyllis White, Doreen Storms and Louise Storms.
Elsie was predeceased by: her husband, Sherman Djuff; her daughter, Joanne Berg; her brother-in-law, Stanley Djuff; her parents, Jim and Christina Storms; her siblings, Dorothy DiPong, Alan Storms, Elmer Storms and Jim Storms; and her sister-in-law, Inez Elliott;
The Memorial Service for Elsie will be conducted from First Lutheran Church, Lloydminster, Alberta on Friday, February 8, 2019 at 2:00 pm.
Donations in memory of Elsie may be made to the Zion Lutheran Church Cemetery or donor's charity of choice.
Elsie's memorial card can be viewed or downloaded from the link below:
https://indd.adobe.com/view/0c0056d5-b35a-4568-9f17-6f2717db4533