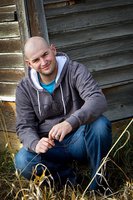 Thomas Joy
Joy ~ Thomas "Tom" Joy passed away suddenly in Lloydminster, Saskatchewan, February 27, 2019 at the age of 32 years.
Tom is survived by: his wife, Elise; his two daughters, Addison Joy and Harlynn Joy; his son, Lincoln Joy; his parents, Perry and Kelly-Lynn Joy; two brothers, Andrew (Amber Clark) Joy and Matthew Joy; his grandmother, Mildred Joy; his nine uncles, Charles Joy, Geoffrey Joy, Mark (Chantel) Joy, Darren (Katherine Adams) Joy, George Billings, David (Iris) Stone, Tony Stone, Morris Stone, Dana Stone; his three aunts, Janette Billings, Zetta Stone and Melissa Stone; his parents-in-law, Barb and Elias Bulhoes; his brothers-in-law, Joseph (Elizabeth) Bulhoes and their daughter Gabrielle; John (Taryn) Bulhoes and their daughter, Josephine; his numerous cousins and Elise's aunts and uncles.
Tom was predeceased by: his grandfathers, Francis Joy and Gideon Stone; his grandmother, Margaret Stone; his cousin, Kayla Barnes; his uncle, Clyde Oxford; his aunt, Laurie Billings; and Elise's grandmother, Florence Hamel.
The Mass of Christian Burial will be conducted from St. Anthony's Roman Catholic Church, Lloydminster, Alberta on Wednesday, March 6, 2019 at 2:00 PM.
A trust account has been started for Tom's three children. Any donations may be made to the Joy Children Trust Account CIBC.
Tom's memorial card can be viewed from the link below:
https://indd.adobe.com/view/74439dcf-448b-4034-982f-36de748cf60a