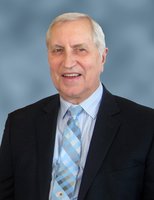 John Miller
John Ignatius Miller passed away at the St. Walburg Health Complex, St. Walburg, Saskatchewan, March 4, 2019 at the age of 73 years.
John is survived by: his faithful wife, Bertha; his daughters, Heidi (James) Riley and their children, Éowyn, William, Kirk, Kessa, Ruth and Vimy; Eila; Eva and her son, Raymond; Siiri; and Sylvia Feeney; his sons, Heikki; and Toivo (Hannah) and their children, Luke and Henry; his sisters, Dorothy Frey and Ann Miller; his brothers, Adam (Astrid) Miller; and Frank (Benedicta) Miller; his sister-in-law, Ida Miller; and numerous nieces, nephews, cousins and friends.
John is predeceased by: his parents, Gabriel & Anna (Geis) Miller; his son-in-law, Mark Feeney; his brother, Jacob Miller; his sisters, Madeline Miller; Josephine Schmeiser; Catherine (Jack) Leibel; Elizabeth (John) Hollman; and his brother-in-law, Jack Frey.
The Prayer Vigil will be held on Friday, March 8, 2019 at 7:00 pm CST at Our Lady of Sorrows Roman Catholic Church in Paradise Hill, SK.
The Mass of Christian Burial will be conducted on Saturday, March 9, at 11:00 am CST at Roman Catholic Church of the Assumption in St. Walburg, SK.
Donations in memory of John may be made to the St. Walburg Health Complex Palliative Care or St Therese Institute of Faith and Mission - Bruno, SK.
John's funeral card can be viewed from the link below:
https://indd.adobe.com/view/4a91944d-6841-4a32-9420-78c5b887f2fb