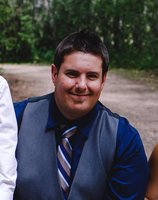 Brian Cayford
Brian Steven Cayford passed away at the University Of Alberta Hospital, Edmonton, Alberta, March 5, 2019 at the age of 34 years.
Brian is survived by: his loving wife, Celeste; his twin daughters, Abigail and Olivia; his mother, Diane; and numerous extended family.
Brian was predeceased by: his father, William Cayford.
The Memorial Service for Brian will be conducted from the Lloydminster Gospel Fellowship, Lloydminster, Saskatchewan on Thursday, March 14, 2019 at 11:00 AM.
Donations in memory of Brian may be made to Stollery Children's Hospital Foundation.
Brian's memorial card can be viewed from the link below:
https://indd.adobe.com/view/58b60fc8-4b33-4535-8827-6f232817e63b