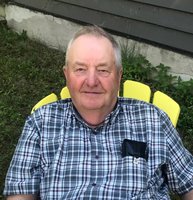 Donald Deaville
Donald Deaville passed away at the Lloydminster Hospital, Lloydminster, Saskatchewan, May 11, 2019 at the age of 73 years.
Don will be forever loved and missed by: his loving wife, Shirley of 51 years; his children, Shari (Brad) and their children, Gemma and Gavin; Rhonda (George); Andrea (Brian) and their children, Caitlin and Danielle; and Deanna (Csaba); his sister- and brother-in-law, Melvin and Betty and their daughters, Maureen (Chris, Benjamin,Madeleine), Julie (James); his close cousins, David and Duane Wallace and families; his biological half-sister, Vicky and cousin, Lisa; and his cherished relatives, the Sanford and Thibodeau families.
Don was predeceased by: his loving parents, Harold and Eva Deaville.
The Funeral Service for Don will be conducted from Paradise Valley E. H Walter School, Paradise Valley, Alberta on Thursday, May 16, 2019 at 2:00 PM.
Donations in memory of Don may be made to the Paradise Valley Museum, Paradise Valley Ag Society, Paradise Valley Fire Department, Paradise Valley Cemetery or donor's charity of choice.
Donald's memorial card can be viewed or downloaded from the link below:
https://indd.adobe.com/view/dcd3cbe3-20ac-4133-9f70-3ef2f0fed933