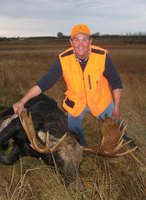 Nigel Stapleton
Nigel Andrew Stapleton passed away at the Lloydminster Hospital, Lloydminster, Saskatchewan, May 6, 2019 at the age of 56 years.
The Celebration of Life for Nigel will be conducted from the Hillmond Memorial Hall, Hillmond, Saskatchewan on Thursday, May 16, 2019 at 2:00 PM.
In keeping with the family wishes they have asked that you wear either colorful or camouflage clothing to the service.
Donations in memory of Nigel may be made to the Hillmond Sports Society, directed to the Nigel Stapleton Skeet Shoot.
Nigel's memorial card can be viewed or downloaded from the link below:
https://indd.adobe.com/view/35fdc12b-f5f4-4873-bbdf-b18312707700