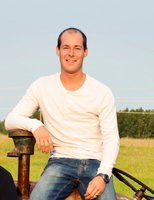 Nic Weston
Nicholas "Nic" Wayne James Weston passed away in Maidstone, Saskatchewan on May 28, 2019 at the age of 29 years.
Nic is survived by: his wife, Lesley; his daughters, Brielle & Lexa Weston; his parents, Leanne and Wendall Weston; his siblings, Brock Weston and Whitney Weston; his niece and nephew, Tori Rhinehart and Alex Georgiew; his grandparents, Wayne (Sharon) Weston and Mern (Kay) Key; his aunts and uncles, Rhonda Weston (Sam van Aken), Tracey Key (Laverne Andrews), Carrie (Lane) Wakefield and Grant Key; his cousins, Brett Andrews, Cody Andrews, Stephanie (Tom Bex) Wakefield and Kaity Wakefield (Shawn Hartman); his grandmother in-law, Jacquie Gerbig; his father-in-law and mother-in-law, Kim (Jackie) Gerbig; his sisters-in-law, Courtney Gerbig and Karissa Buckley (Dustin, Ben & Cam Buckley).
Nic was predeceased by: his great grandparents, Tommy (Audrey) Kitching, Alice Martin and Walter and Florence Weston; his grandparents in-law, Buck Gerbig and Theresa Kennedy.
The Memorial Service for Nic will be conducted from the Maidstone Arena, Maidstone, Saskatchewan on Tuesday, June 4, 2019 at 2:00 PM.
In lieu of flowers donations in memory of Nic may be made to the Maidstone Minor Hockey Association or Maidstone Minor Ball Association.
Nic's memorial card can be viewed or downloaded from the link below:
https://indd.adobe.com/view/c8de2d2b-1900-4bfb-99df-ebb2708680e1