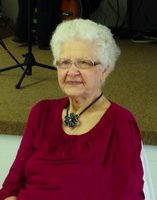 Rita Morrison
Rita Franziska Morrison passed away at the Maidstone Health Complex, Maidstone, Saskatchewan on May 31, 2019 at the age of 94 years.
Rita is survived by: her four sons, Allen (Vicki), Garry (Marilyn), Murray and Royce (Lorna); her one daughter, Gail Churchman; her eighteen grandchildren; her thirty-one great grandchildren; her three brothers, Leo, Louis and Eddie Hartman; her three sisters, Bertha Ulrich, Adelaide Eberle and Eileen Noyes.
Rita was predeceased by: her first husband, Alf Taylor; her second husband, Gordon Morrison; her daughter, Fern Machtans; her son, Eldon Taylor; her granddaughter, Tracy Taylor; her sisters, Chris and Mary; her brothers, Gabriel and Raymond; her three step children, Russell Taylor, Dennis Taylor and Verna Hooper.
The Memorial Service for Rita will be conducted from the Maidstone United Church, Maidstone, Saskatchewan on Friday, June 7, 2019 at 11:00 AM.
Donations in memory of Rita may be made to Pine Island Lodge or donor's charity of choice.
Rita's memorial card can be viewed or downloaded from the link below:
https://indd.adobe.com/view/5a931e93-59e9-4cc0-8cdd-d15477a6a2da