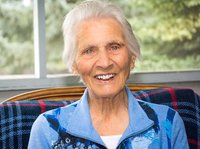 Anne Makichuk
Anne Makichuk passed away at Lloydminster Continuing Care Centre, Lloydminster, Alberta on June 4, 2019 at the age of 91 years.
Anne Makichuk, nee Nystoruk, was born on January 5, 1928 in a small farmhouse near Kubsar, Saskatchewan. She was one of 14 children. At a young age her passion was gardening. Anne loved children, especially her younger siblings and her nieces and nephews.
She met the love of her life at a dance in Vesna. Bill and Anne married in 1949 and completed their family with three beautiful children. Anne's priority was to be a wife, mother, grandmother, and homemaker. She helped with farm duties, spent many hours in her garden, and often searched for morels and berries. Summers at the farm were a special time spent with frequent visits from family and friends.
Anne is predeceased by her husband Bill, her parents, and other family members. She is survived by her children Gail (Bob), Lois (Darrell), Dusty (Laurie); her grandchildren Jason (Laura), Krista (Chris), Ashlee (Tyler), Lindsay (Cody), Karli (Mitchel); and great-grandchildren, Khessler, Kruz, Kinlee, Jagger, Jack, and Sarah, and her sisters, Pearl, Violet, and Rose.
Anne will be remembered for her involvement with the parish, volunteering at the seniors' home, her kindness to others, and her willingness to help everyone. She is truly a thoughtful and inspiring woman who will be missed by many.
The Funeral Service for Anne will be conducted from the Descent of the Holy Spirit Ukrainian Catholic Church, Lloydminster, AB on Saturday, June 8, 2019 at 10:00 AM.
Donations in memory of Anne may be made to Descent of the Holy Spirit Ukrainian Catholic Church.
Anne's funeral card can be viewed or downloaded from the link below:
https://indd.adobe.com/view/44470963-6585-4e5d-8917-4eb0acec2e83