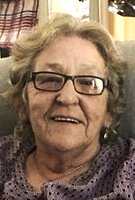 Nina Greupner
Nina Eva Greupner (nee: Utley) passed away suddenly and peacefully at Lloydminster Hospital, Lloydminster, Saskatchewan on Tuesday, June 4, 2019 at the age of 79 years.
Nina is lovingly remembered by: her husband, Robert; her daughter, Dianne Womacks (John Nelson); her sons, Ed (Shelly) and Terry (Judy Hutchinson); seven grandchildren, Karla Helm (Shane), Justin Helmer (Fe Seville), Darrin Womacks (Melissa Lamy), Jaz Greupner (Kim), Jesse Greupner (Cheryl), Shena Greupner, and Kaleen Lowrie; ten great-grandchildren, Dylan Helm, Quintin Helm, Ava Helm, Brody Davidson, Keira Helm, Lukas Greupner, Hunter Lowrie, Wyatt Womacks, Cole Greupner, and Kaybrie Greupner.
Nina is also survived by: her brothers, Don (Marlene), John/Butch (Carolyn) and Ron (Marion); her sister, Wendy Miketon (Rick); and her sister-in-law, Nancy Utley.
Nina was predeceased by: her parents, Edward and Evelyn Utley; her sisters, Velta (Bubs) and Pat; her brothers, Bill, Cec, and Jim; and her son-in-law, Al Womacks.
As per Nina's wishes, no Memorial Service will be held and cremation will follow.
"Celebrating Mama" Celebration of Life will be held on Saturday, August 3, 2019 at the Greupner Farm beginning at 3:00 pm until 7:00 pm. For those wishing to bring their campers and sharing memories for the full weekend, please let the Greupner Family know, celebratemamag@gmail.com.
For sharing of photos, stories and more event information, please see our Facebook page "Celebrate Nina Greupner".
Donations in memory of Nina may be made to St. John's Anglican Church - Golden Valley Church Restoration.