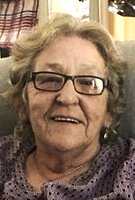 Nina Greupner
Nina Eva Greupner (nee: Utley) passed away suddenly and peacefully at Lloydminster Hospital, Lloydminster, Saskatchewan on Tuesday, June 4, 2019 at the age of 79 years.
Nina is lovingly remembered by: her husband, Robert; her daughter, Dianne Womacks (John Nelson); her sons, Ed (Shelly) and Terry (Judy Hutchinson); seven grandchildren, Karla Helm (Shane), Justin Helmer (Fe Seville), Darrin Womacks (Melissa Lamy), Jaz Greupner (Kim), Jesse Greupner (Cheryl), Shena Greupner, and Kaleen Lowrie; ten great-grandchildren, Dylan Helm, Quintin Helm, Ava Helm, Brody Davidson, Keira Helm, Lukas Greupner, Hunter Lowrie, Wyatt Womacks, Cole Greupner, and Kaybrie Greupner.
Nina is also survived by: her brothers, Don (Marlene), John/Butch (Carolyn) and Ron (Marion); her sister, Wendy Miketon (Rick); and her sister-in-law, Nancy Utley.
Nina was predeceased by: her parents, Edward and Evelyn Utley; her sisters, Velta (Bubs) and Pat; her brothers, Bill, Cec, and Jim; and her son-in-law, Al Womacks.
As per Nina's wishes, no Memorial Service will be held and cremation will follow.
Instead, a "Celebrating Mama" Event will be held on Saturday, August 3, 2019 at the Greupner Farm. For more information or to confirm attendance, please email celebratemamag@gmail.com.
For sharing of photos, stories and more event information, please see our Facebook page "Celebrate Nina Greupner".
Donations in memory of Nina may be made to the Golden Valley Church - Restoration.