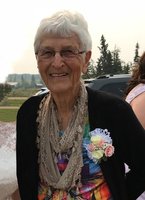 Merle Freeston
Margaret "Merle" Freeston passed away at the Lloydminster Hospital, Lloydminster, Saskatchewan on June 6, 2019 at the age of 93 years.
Merle Freeston is survived by: her daughter, Sharon (Ian) Carruthers and their children, Tracy (Kevin) Mills, Kristie (Derek) Twidale and Ryan (Sara) Carruthers; her son, Morris (Melanie) Freeston and their children, Lanelle Freeston and Chandra (Bryan) Fischer; children of her late daughter, Judy (Denis) Huber, Launa (Rob) Tenney, Rayanne (Warren) Noble; her great grandchildren, Rayah Fischer, Brinley Fischer, Ben Mills, Owen Twidale, Zane Twidale, Aidan Carruthers, Keegan Tenney, Keshia Whiteman, Kade Tenney, Sydney Noble and Eric Noble; her great great grandchild, Calem Whiteman; her sister, Linda Hope; her brother, Lloyd Nichol; her brother-in-law, Pete Kosteriva; and numerous nieces and nephews.
Merle was predeceased by: her husband, Phil Freeston; her daughter, Judy (Denis) Huber; her parents, Clifford and Grace Nichol; her sisters, Noreen Nichol and Lois Kosteriva; and brother-in-law, Jack (Catherine) Freeston.
The Memorial Service for Merle will be conducted from the Neilburg Community Hall, Neilburg, Saskatchewan on Friday, June 14, 2019 at 3:00 PM.
Donations in memory of Merle may be made to the Manitou Pioneers Museum or the donor's charity of choice.
Merle's funeral card can be viewed or downloaded from the link below.
https://indd.adobe.com/view/4743947a-0b83-475e-9f60-b9b7f42abd8a