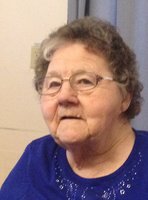 May Loewen
May Loewen passed away at Dr. Cooke Extended Care Centre, Lloydminster, Alberta, on Sunday, June 23, 2019 at the age of 84 years.
May is survived by: her loving husband, Henry Loewen; her two daughters, Connie (Grant) Gordon, and Maryann (Rod) Schwandt; her son, Harvey (Angela) Loewen; her grandchildren, Corrie (Jennifer) Loewen, Tyson (Brandi) Gordon, Clayton (Gordana) Gordon, Kyle (Brandi) Gordon, Ryan Schwandt, Mathew Schwandt, Jesse (Stephanie) Loewen, Dustin Loewen, Dalyn (Holly) Loewen, and JLyn Loewen; her great-grandchildren, Alice Loewen, Trinity Curtis, Saidy-May Gordon, Ella Gordon, Lukas Gordon, Alexa Gordon, and Nova Loewen; her sister, Annie (Chester) Bajak; and numerous nieces and nephews.
She is predeceased by: her son, Isaac Loewen; her parents, Hans & Freda Halvorson; and her three brothers, Tony, Jack, and Halver Halvorson.
A Private Family service will be held at a later date.
Donations in memory of May can be made to Alzheimer's Society.
May's memorial card can be viewed or downloaded from the link below.
https://indd.adobe.com/view/ebd1b945-ea4b-4631-9488-814a350049cd