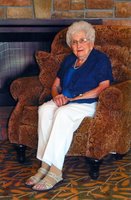 Dolores Cummine
Dolores Florence Cummine passed away July 26th, 2019 with daily family support in the last weeks of her life. She was born and raised in Lafleche, SK, the fifth of seven children born to T.H. and Clara Bourassa. It was there she met and married her husband, George. They eventually settled in Lloydminster and raised their family of five children. In the mid-1980s, they moved to Parksville, B. C. until George passed away in 2010. At that time Dolores moved back to Lloydminster.
Dolores's zest for life centered on her faith, family, music, and volunteer activities. In 1979, she along with Marge Nattress, recognized the need for a "home for women in crisis." This inspiration evolved into what is known today as the Interval Home in Lloydminster. She served on its board up until she moved to Parksville. She assisted in organizing a homemaker emergency service, later named Twin Rivers Service. She also served on the Board of Directors of a recovery center for people with alcohol and drug dependencies. She was a committed and loyal member of St. Anthony's Roman Catholic Church, serving as organist for many years.
In 1977, Delores was recognized as "one in a million" being the recipient of one of twenty-five Lifestyle Awards from then Hon. Monique Begin in Ottawa, ON, as the result of her many volunteer activities.
Delores is survived by: her four daughters, Dolores (Roy) Kuziw of Nanaimo, B.C., Heather (John) Googins of Mt. Shasta, CA, Geraldine (Doug) Madill of Saskatoon, SK, and Marian (Lloyd) Steinkey of Lloydminster, AB; her daughter-in-law, Theresa Cummine of Lloydminster; her thirteen grandchildren; twenty-six great grandchildren; and nine great great grandchildren.
Dolores was predeceased by: her loving husband of seventy-two years, George; her son, LachIan (Locky); her parents and siblings.
A Mass of Christian Burial was conducted from St. Athony's Roman Catholic Church on Thursday, August 1, 2019 at 10 a.m. with Father Tru Le officiating.
Donations in memory of Dolores may be made to Lloydminster Interval Home or Lloydminster Regional Health Foundation - Dr. Cooke Auxiliary.
Delores's funeral card can be viewed or downloaded from the link below.
https://indd.adobe.com/view/4648a172-ce40-443a-87dc-b0d0f32c5929