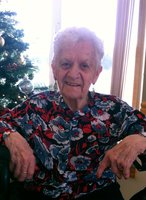 Lorraine Garden
Lorraine Carrol Garden of Camrose, AB, formerly of Lloydminster passed away March 21, 2020 at the age of 91 years.
Lorraine leaves behind: her three children, Shannon Potter (Perry) of Camrose, Lynne Olsen (Clarence) of Alberta Beach and Lanny Garden of Lloydminster; seven grandchildren; and eleven great grandchildren.
Lorraine was predeceased by: her loving husband, Art.
At this time a private family service will be held in memory of Lorraine.
Donations in memory of Lorraine may be made to the Cross Cancer Institute.
Lorraine's memorial card can be viewed or downloaded from the link below.
https://indd.adobe.com/view/a0e6f13e-7c2a-49f3-be4d-2ce2efcf89f1
Lorraine Carrol Garden was born in 1928 to Oscar and Rose Olson. She grew up on the farm and attended the Broughton District School. She met her future husband, Art, while attending school and they fell in love and married June 25, 1948.
As a young married couple, they decided to try living in BC around the Hope area, with fellow friends from back home. Eventually they were called back to Lloydminster to help Lorraine's parents on the farm.
They moved to town in 1955, and Lorraine worked as a cashier at the Co-op grocery store for many years. She eventually moved on to work for Dr. Berg Chiropractor Clinic where she stayed for 25 years.
Her love of gardening was evident if you went to her house. Between the acres of garden (so it seemed to us kids) and the plentiful flower gardens she was in her glory. Lorraine and Art loved to camp & fish, and they spent every weekend from May long to Sept long weekend camping, as long as the campsites where open they were going camping. They took many trips to BC to see old friends and also to Ontario to visit with Art's brother. Minnesota was another frequent destination as Lorraine's relatives where all there. Arizona, Hawaii & Mexico where on their list as well.
In the summer Lorraine would be on the golf course if she had a spare moment and winter was busy with curling bonspiels.
Lorraine spent the last 16 years living in Camrose, close to her daughter Shannon and Perry and her family. Enjoying the holidays and special events with family and friends and being able to be apart of the new arrivals that came into her family. She was truly a treasure to whomever she met. We will miss her humor and good spirits.