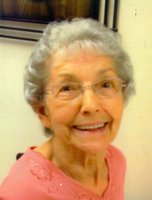 Irene Lorinczy
Irene Marie Lorinczy passed away at the Lloydminster Hospital, Lloydminster, Saskatchewan on Friday, October 9, 2020 at the age of 90 years.
Irene will be sadly missed by: five children: Brenda and Kelvin Hofer, Bob and Kim Lorinczy, Greg and Susan Lorinczy, Deb and Dave Wunder, Murray Lorinczy; grandchildren, Jordan (Tasia) Hofer, Braden (Alex) Lorinczy, Shelby (Jaylen) Epp, Haleigh Lorinczy (Carter Behm), Ashlee (Chris) Olson, Amber (Justin) Morin, Breanne (Justin) Lazerte, and Carlee (Jason) Clark); great grandchildren, Ryley, Mason, Jayden, Jax, Ryann, Blaire, Kohen, Rhett, Brayah, Anna, Aubrey and Quinn; as well as numerous other relatives.
Irene was predeceased by: her loving husband, Danny Lorinczy; grandson, Ian Hofer; and son-in-law Dale Weinrauch.
A private memorial service in memory of Irene will be held.
Donations in memory of Irene may be made to Arthritis Society-Alberta or donor's charity of choice.