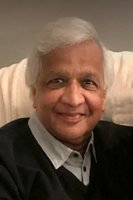 Prem Aggarwal
It is with deepest sadness we announce the passing of Prem Nath Aggarwal of Lloydminster, Alberta on January 5, 2021 after a short battle with cancer.
Prem's family was at his side until he passed peacefully at home. He was everything to his family; a loving and devoted husband of 51 years to Gloria, a dedicated father to Jason (Heather) and Justin (Lisa), and a fun loving grandpa to Nyah, Annika, Davin and Emery.
Prem was one of 14 children with 8 brothers and 5 sisters born and raised in Arusha, Tanzania, Africa. He was a generous Uncle to numerous nieces and nephews and a father figure to many of them.
A Funeral Service for Prem will be held on Saturday, January 9, 2021 at 2:00 PM. Due to COVID-19 restrictions, the service will be by invitation only. The service will be live streamed and posted on the McCaw Funeral Service website under Prem's obituary at the time of the service.
In lieu of flowers, donations in memory of Prem may be made to Cure Cancer Foundation - World's Longest Hockey Game. The proceeds raised from this game will be donated directly to the Cross Cancer Institute in Alberta.