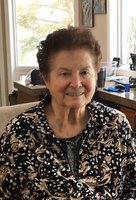 Liz Bellanger
Elizabeth "Liz" Annie Bellanger passed away at North Battleford River Heights Lodge, North Battleford, Saskatchewan, on December 19, 2020 at the age of 82 years.
Our Mom was a person of few words but when she smiled at you, it was a smile that made you feel like you were her whole world…Mom was born Feb 27, 1938 to Jacob and Olga Tetz, who lived on a farm 10 miles south west of Turtleford. She was one of 5 children and grew up as a farm girl…attending Cordelia School, a country school about 5 miles from their farm. We have been told by many of her age how lovely she was…and of course still was still this day…of course our Dad, Andy Bellanger, was well aware of this and soon he and Mom were married in June, 1956. Mom might have been considered a shy person but she must have had some "bounce" in her to agree to be married to Dad.

Mom and Dad purchased and settled on what was known as the Saunders farm, and we were many of the extended Bellanger families who farmed in the Horse Hill area. Mom and Dad had a mixed farming operation and Herford cattle were a major part of their farming. Dad may have wanted boys but he got very lucky and had three girls; Claudette 1957, Louise 1959, and Carol 1971.

Mom was an avid gardener, canner, baker, seamstress and needlework, and we cannot recall a meal without excellent homemade bread and salad. Mom and Dad loved adventure and went on many fishing trips, camping and traveling both in and out of Canada. Mom was a born artist and oil painting was her method of choice…indeed her paintings are on display in many homes today …

Mom passed away Saturday, December 19, 2020 due to complications with lung cancer. Our Mom was a beautiful dedicated mother and wife and very loved by family and friends…however life can offer it's challenges …but in the end our Mom surpassed her challenges…she is a beloved and treasured mother, grandmother, sister, and friend and we honour her and we will miss her…she was our mother.

Sadly missed by her three daughters: Claudette McGuire, Louise Roach (Darryl Roach), her grandchildren Cassie Jullion (Brett Jullion) and great grandchildren Bentley and Vienna; Brody Roach (Janessa) and great grandson Briggs Roach; Carol Poole and grandchildren Tayla Poole (Kirk) and Trayton Poole (Presli), and many other family members.

Elizabeth Bellanger's funeral service will be held Friday, January 15, 2021 at the Christ the King Catholic Church Edam, Sask at 2:00pm, and will be attended by family and invitation only, as per Covid regulations. This will be through McCaw Funeral Service.

In lieu of flowers please consider donating toward the upkeep and operation of the Edam Handi-Van, a transport that keeps our seniors mobile and able to complete appointments and visits. Our Mom loved the excursions this vehicle provided to fun locations for those residents in Edam who had no other form of transportation. The Handi-Van relies on volunteers and local support to continue its' service.

Donations can be mailed to Edam Handi-Van, Box 381, Edam, SK S0M 0V0.