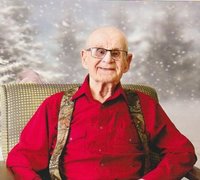 Walter Peters
Walter Herbert Peters passed away on February 6, 2021 at the age of 96 years.
Walter is survived by: his children, Janet (John) Rainbow, Beverley (Robert) Powers, Joan (Brian) Klaassen, Brad Peters, Barbara (Norman) Gillis, and Sherri (Robert) Davidson; his grandchildren, Rita (Kevin) Rainbow, Raun Rainbow, Shaun (Marta) Powers, Grant (Lydia) Powers, Jeff (Jessica) Klaassen, Abbie (Daryl) Belsheim, Ashley Peters, Siovhan (Casper) Fix, Tom Gillis, Charlie Nan, Matthew (Alana) Davidson, Brandon Davidson, Sarah Davidson, Cecilia Davidson and Sophia Davidson; his great Grandchildren, Harmony and Owen Rainbow, Rory and Kash Klaassen, Jaxen Cronkhite, Rylan, Ava and Archer Fix, Veloria Scowan, Sarah and Ethan Gillis, Dana and Tesla Brown, Emberlee Davidson, Mylan Belsheim and Easton Davidson.
Walter was predeceased by: his parents, Annie and Sam Peters; his wife, Clare; his 3 sisters and 2 brothers.
Walter was born Nov 29, 1924 in a farm house near Rosthern Saskatchewan. As a young boy he moved with his family to the Four Corners district where he attended the Cock of the North school until grade 8. He managed to get his high school equivalency in 1965.
Walter farmed in the Rapid View district for many years and always thought of himself as a farmer. He married Clare Bremner Dec 28, 1948 and together they raised 6 children. He took an AI course in Saskatoon one winter and then worked as an AI Technician at the Blue Bell Community pasture. He sold the farm in 1983 and moved to Meadow Lake. There Walter did handyman work and drove the school bus.
Walter had a passion for life. He loved many sports including water skiing, curling, golf and pool. He often had a goal to either golf or curl for 7 days a week. He also loved watching baseball on TV.
Together with Clare they enjoyed many camping and trips with their motor home to visit their daughters in BC or New Brunswick. They spent several winters in Yuma. Although he didn't like to fly he enjoyed his trips to Portugal, Hawaii and Thailand.
Walter and Clare moved to Lloydminster 3 years ago. He really appreciated the staff at Pioneer House these last years.
At this time no service will be held.
Donations in Walter's memory can be made to Pioneer House or Lloydminster & District SPCA.