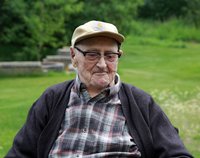 Alf Hoegl
Alphonse "Alf" Joseph Hoegl passed away peacefully at Pioneer House, Lloydminster, Alberta on Monday, February 8, 2021, at 99 and 3/4 years old - an incredible long life that was richly filled with a love for family and friends.

Alf is survived by: his children, Reg Hoegl, Lorraine Hoegl, Merle Hoegl (Marcella) and Mark (Maurika) Hoegl; grandchildren, Paul (Dawn), Jonas (Renee), Marah (Jeff), Ava (Joel), Daria (Brett), Kaimoon and Mikaela; great grandchildren, Clara, Ellie, AJ(Alphonse Jonas), Jack, Harry, Tilly, George, Agnes, Archibald, Matthew, Ben and Jeffery; and numerous other relatives.

Alf was predeceased by: his loving wife, Tillie Hoegl; daughter-in-law, Wanda Hoegl; parents, Joseph and Maria Hoegl; and his two sisters, Theresa Duffield (Gordan), and Bena Nelson (Art).

The Private Funeral Service for Alf will be conducted from McCaw Funeral Chapel, Lloydminster, Alberta on Thursday, February 18, 2021 at 3:00 PM. Due to the current restrictions, we are very sad that we cannot all gather and celebrate his life together. The family would like to offer a public viewing on Thursday, February 18, 2021, starting at 1:00 PM. If you wish to attend please register by using the following link. https://calendly.com/dariahoegl/viewing-for-the-late-alf-hoegl
Donations in memory of Alf may be made to Pioneer House or donor's charity of choice.
The recording of the service will be posted later this afternoon.