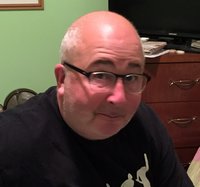 Shaun Mamer
Shaun Edgar Mamer passed away at his residence in Turtle Lake, Saskatchewan, March 24, 2021 at the age of 59 years.
Shaun is survived by: his loving wife of 32 years, Roxane Mamer; daughter, E. Michelle Mamer; two sisters-in-law, Aldina Mamer and Dawn Mamer; as well as numerous nieces and nephews.
Shaun is predeceased by: his parents, Leo and Isabelle Mamer; brothers, Leigh Mamer and Val Mamer.
Shaun lived in Weekes, Saskatchewan until grade nine when his Dad retired, and his parents moved to Langham. In Langham Shaun met people who would become his friends for life; especially Peter Martin who Shaun considered his best friend. Shaun worked for the Department of Highways out of PA and would spend his time between there and Saskatoon. It was during this time he purchased a lot at Turtle Lake and was never happier when he could spend his time at his little piece of heaven. In the summer of 1984, he met his future wife who was working as a waitress at his favorite bar. They married and moved to Unity in 1988 when Roxane got a job at Unity Composite High School, and a few years later Shaun began work as a Caretaker at UCHS then at St. Peter's Elementary School. In 2015 he left Unity to begin another career as Maintenance Man at Kivimaa-Moonlight Bay Resort.
Shaun and Roxane began planning for their retirement and in 2013 moved a beautiful old farmhouse to their lot at Turtle Lake. He spent endless hours after work completing the inside and outside of the house. When the work was done, it was a common sight to see Shaun sitting on the veranda visiting with friends and neighbors as they passed by. Shaun was very proud of the finished project and his hope was that it would become a gathering place for friends and family.
Shaun's love of music and cars was well known. In Unity he joined the Shiners Car Club and enjoyed the camaraderie. Most Saturdays he could be found working diligently on his Studebaker Truck and for many years spent weekends going to car shows. The truck was a crowd favorite and won many awards over the years. He loved it when other car enthusiasts stopped to "help with the build" or if he could offer his expertise to help them with their projects.
He was a self-taught musician and loved to sit and 'noodle' on any of his many guitars. He also played bass, keyboard and drums. He wrote music and collaborated with Roxane on several musical productions, as well as recording his own compositions. He loved performing in the many bands he was part of over the years. He could spin an expert yarn about the unusual people he met while performing!
His sense of humour was epic: he had a razor-sharp wit and had perfected the art of sarcasm. He was happy when he was surrounded by family and friends and loved to stop and chit-chat with anyone walking by. Entering into a conversation with Shaun you would soon realize that you had friends or relatives in common as he never forgot anyone he met.
Shaun modeled a belief system that allowed him to get along well with others: treat people with respect; hard work is always rewarded; be generous with others; be honest. He shared his time, advice and expertise with anyone who asked.
Due to the current COVID-19 situation there will be no service with the hope of having a celebration of Shaun's life when friends and family can gather together.
Donations in memory of Shaun may be made to Brain Tumour Foundation of Canada. www.braintumour.ca