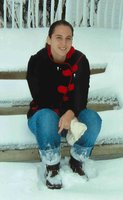 Marie Eaton
It is with deep sadness that we announce the passing of Marie Anne Eaton of Edmonton, Alberta, on Thursday, March 25, 2021, at the age of 38.
She passed away peacefully in her sleep from a pulmonary embolism caused by a blood clot via her leg (DVT).

Marie is survived by: her daughter, Madeleine Yvette Taylor; partner, Jackson A. Taylor; her mother, Erdine Anne Eaton; two brothers, Blake Edward Eaton (Tara Knight) and John Henri Eaton; nieces, Rosebud Eaton, Josephine Eaton, and Victoria Eaton; and one nephew, Carter Eaton. Marie will be greatly missed by aunts, uncles, cousins, and very dear friends.
Marie was predeceased by: her father, Jack Eaton; grandparents, Jack & Agnes Eaton, Henri & Pearl Basset; uncles, Harold Eaton and Myron Basset; and cousins, Ken Macdonald and Éva Eaton.

Marie will always be remembered for her kind heart, caring nature, her smile, and infectious laughter.

A time of visitation will be held at the McCaw Funeral Chapel on Wednesday, March 31, 2021 from 7:30 PM to 8:30 PM.
The Celebration of Life will take place at the McCaw Funeral Chapel, Lloydminster, Alberta on Thursday, April 1, 2021 at 2:00 PM. Due to current restrictions, the number of attendees who are not immediate family will be restricted. The service will be live-streamed and posted on the McCaw Funeral Service website under Marie's obituary at the time of service.

In place of flowers, in Marie's honour, we ask donations be made to spondylitis arthritis - a rare disease from which Marie suffered for many years.
https://spondylitis.ca/get-involved/donate/