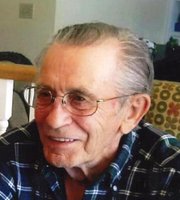 Peter Wagner
Mr. Peter Paul Wagner passed away peacefully at the Red Deer Hospice, Red Deer, Alberta on Tuesday, April 14, 2020 at the age of 83 years. He was born on December 6, 1936 in Cecil Lake, British Columbia.
Peter is survived by: his wife, Dorothy; children, Kelton (Teresa) Wagner and Petra (David) Kitteringham; three granddaughters, Jesselyn Evans, Katanna Wagner and Lachelle (Nick) Stanley; three great-grandsons, Tanner Evans, Conner Stanley and Brantley Wagner; two sisters, Mary Graham and Deanna Braham; brother, Raphael 'Ray'; as well as numerous nieces and nephews.
Peter is predeceased by: his parents, Sophie and Anthony 'Tony' Wagner; sisters, Doris Urlacher and Marlene Washenfelder; brothers, Theodore 'Ted' Wagner, Joe Wagner, Teddy Wagner and Gabriel "Gay" Wagner.
The graveside service for Peter will be conducted from Neilburg Cemetery, Neilburg, Saskatchewan on Saturday, April 17, 2021 at 2:00 PM. Due to the current restrictions this will be a private family service.
Donations in memory of Peter may be made to Red Deer Hospice. https://www.reddeerhospice.com/donate1.html