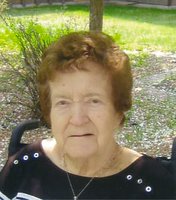 Audrie Westgate
Audrie Lenora Westgate (Dupuis) (Suberlak)
January 24, 1933 - April 5, 2021
Audrie passed away peacefully at the Lloydminster Continuing Care Centre with her family by her side at the age of 88.
Audrie is survived by: her and Byron's five children, Barbara Moir (Garry), Grant Westgate (Donna), Brenda Burgess (Don), Diane Hampel (Alfred) and Deb Noyes (Bob); ten grandchildren, Ryan Moir (Kailey), Riley Moir (Michelle), Todd Moir (Samantha), Stacy Jubinville (Shane), Autumn Westgate (Tyler), Cole Westgate (Jocelyn), Jenny Burgess, Corr Burgess (Susan), Tanner Burgess (Emily) and Victoria Burgess; 14 great-grandchildren, Jack Moir, Jace Moir, Bennett Moir, Beau Moir, Kai Moir, Alexandra Moir, Brooklynn Moir, Mason Jubinville, Colter Jubinville, Vonya Hanson, Blu Hanson, Maggie Westgate, Luke Burgess and Matthew Burgess; Dupuis family of step-children and step-grandchildren; brother, Vernon Goheen (Doreen); sister, Ethel Sutton; in-laws, Virginia Beattie (Austin), Jim Westgate, Lenita Westgate, Marguerite Westgate, June Westgate and Iris Westgate; as well as numerous nieces and nephews.
Audrie was predeceased by: her first husband, Byron Westgate; second husband, Hildege Dupuis; third husband, John Suberlak; in-laws, Les Sutton, Dean Westgate (Moreen), Vernon Westgate (Stella), Alfred Westgate, Lyle Westgate, Art Westgate, Des Westgate and Marie Beattie (Dale); parents, Cecil and Luella Goheen; parents-in-law, Chase and Olive Westgate.
A private family gathering will be held in her memory at a later date.
If you wish to give a donation in Audrie's name, please give it to those in need.
Audrie's family much appreciates and wishes to thank the LCC staff and Dr. Adél Naudé for the excellent, compassionate care they provided for Mum.