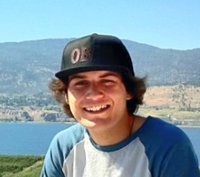 Daxon Hornick-Schmidt
Written by Daxon's Mother, Sarah
It is with excruciating sadness, the family of Daxon Levi Hornick-Schmidt, age 24, of Lloydminster, Alberta, must announce his unexpected death on Saturday, April 17th in Lloydminster, Saskatchewan.
Daxon was born in Saskatoon, Saskatchewan, gifted to proud parents Greg and Sarah Schmidt on August 11th, 1996. The oldest of 6 Grandsons in the immediate families, all of the boys looked up to him. His brother Chayce, idolized him. The Aunties gushed over him, and the Uncles shared his love for fishing and the lake.
He attended many schools during his first 14 years throughout the USA, Germany and Canada. He was fluent in German, and continued to speak it often. He graduated in June, 2014 from the Comprehensive High School in North Battleford, Saskatchewan, and attended Lakeland College under the University Transfer program for one year, with a desire to further his skills in writing.
Daxon loved sports and played minor hockey in all three countries until he was 15, at which time he took his first paying job at the Boys and Girls Club in North Battleford, Saskatchewan. He spent his later teenage years working for Neil and Lorne at Grandpa Glenn's family run Home Hardware in North Battleford, where he got to see Grandpa Johnny and Uncle Gabe every day. His Dad's hockey career gave him the opportunity to travel the world extensively, where he collected experiences and memories as souvenirs. Daxon had a faithful passion for music, and spent most of his free time writing lyrics, rapping and recording, almost always with a coffee in hand.
Daxon had a soft and tender heart, spreading love and light where ever he travelled. He saw the lonely, lost and marginalized in a gifted way that most people will never come to understand. He respected humanity, and God used him every day to show the world authentic love. He treated those around him with equality, compassion, and acceptance. He lived judgement free. He embraced a diverse culture, regularly practicing First Nation rituals, holistic self-care, and would often accompany the Grandma's to a Catholic mass on any given Sunday.
Daxon is survived by: his Parents, Greg & Sarah Schmidt; younger brother, Chayce (Lloydminster, AB); grandparents, John & Barbara Schmidt (North Battleford, SK) and Glenn & Caren Hornick (Penticton BC); Auntie Michelle and Uncle Brent Sack; cousins, Spencer and Jaden (North Battleford,SK); Auntie Ann and Uncle Jared, cousins Carter and Grayson (Penticton,BC).
The Funeral Service for Daxon will be held at 2:00 PM on Thursday, April 29th at St. John's Anglican Church of Canada on 49th Street in Lloydminster, Saskatchewan, with Pastor Michael Stonhouse officiating. Due to covid restrictions, the in-person service will be by invitation only. The service will be live-streamed which will be available for the Men's Shelter and Drop-In community at Residents in Recovery on 50th Avenue, as well as on line for his friends and family to view from all over the world. This will be posted on McCaw Funeral Service Website under Daxon's obituary at the time of service.
It would be an honour if you could all join us in celebrating the life of our beautiful boy, taken too soon. Forever Young.
At this time, in lieu of flowers, gifts and food, Greg, Sarah and Chayce are requesting that friends and family pay homage to Daxon's fight for recovery by supporting the resources he leaned on in recent months, so that those left behind can continue to battle their disease and get the help that they need, and so greatly deserve.
Daxon's memorial card can be viewed or downloaded from the link below.
https://indd.adobe.com/view/65ca254e-a0ec-4df9-91a4-8e6ca57f4ad8
Thank you all so much for your loving support.
Residents in Recovery
Charitable tax receipts will be issued by the Lloydminster Region Health Foundation on behalf of Residents in Recovery Society.
https://www.lrhf.ca/donate/
Donations can also be made by e-transfer to: residentsinrecovery@hotmail.com
Or by cash or cheque to:
Residents in Recovery Society
4804 50th Avenue
Lloydminster, AB T9V 0W5

The Lloydminster Men's Shelter
https://www.canadahelps.org/en/charities/lloydminster-social-action-coalition-society/

The Lloydminster Drop-In Centre
4709 49 Avenue
Lloydminster, SK S9V 0T3