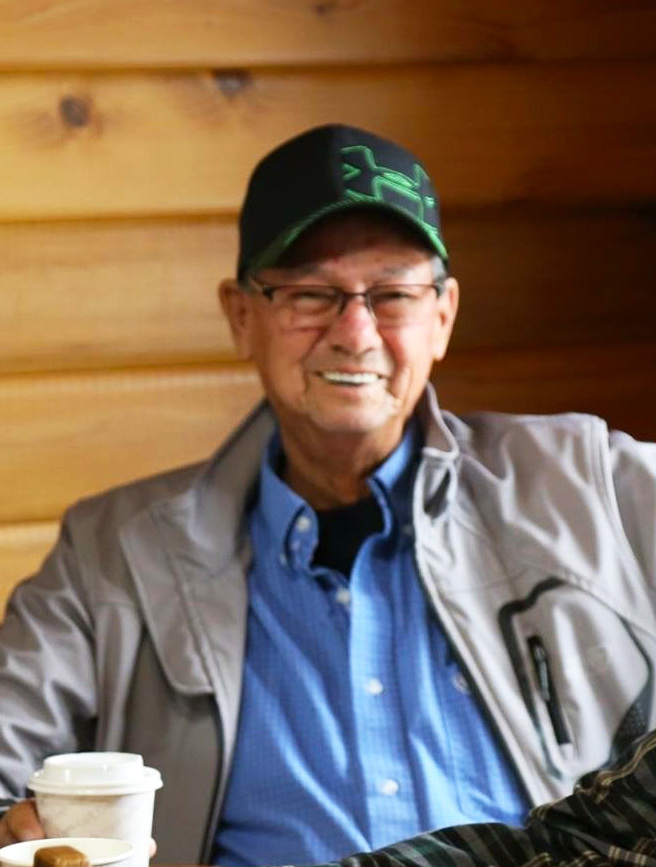 Lawrence Carter
Lawrence Carter passed away peacefully with family by his side at the Pioneer House, Lloydminster, Alberta on Tuesday, April 27, 2021 at the age of 78 years.
Lawrence is reunited with the love of his life, Lucy Carter; He is also survived by: his daughters, Wendy (Bob) Lindsay and Tammy (Kim) Wright; five grandchildren, Cody (Courtney) Lindsay, Jessica (Kelly) Arnold, Kyla Lindsay, Jazmyn ( Matt) Gartner and Carter Wright (Kasidy Newman); five great grandchildren, Lucy, Lila Arnold, Hendrix, Van Gartner and Brekken Lindsay.
A private family service will be held in memory of Lawrence.
Donations in memory of Lawrence may be made to Heart & Stroke Foundation, Lori Craven Memorial or donor's charity of choice.
The memorial card for Lawrence can be viewed or downloaded from the link below.
https://indd.adobe.com/view/8ecd52e1-4f6e-4e5e-abc1-4658a093a8ac
Eulogy written by Jazmyn Gartner ~
Lawrence Carter was born in Onion Lake on February 5, 1943 to Jerry and Clara Carter. He was part of a large family and had ten brothers and sisters.
Lorry is survived by his two loving daughters, Wendy (Bob) Lindsay and Tammy (Kim) Wright. His five grandchildren, Cody (Courtney) Lindsay, Jessica (Kelly) Arnold, Kyla Lindsay, Jazmyn (Matt) Gartner, and Carter Wright (Kasidy Newman); five great-grandchildren Lucy and Lila Arnold, Brekken Lindsay, Hendrix and Van Gartner. Lawrence's brother Harvey (Sylvia) Carter, and sisters Florence Blois, Leona Carter, Doreen Cooper, Sister-in-Law Mariwyn Carter and many nieces, nephews, cousins, extended family, and friends.
Lorry was predeceased by his parents Jerry and Clara Carter, his wife Lucy Carter, his brothers Raymond, Harry and baby Harvey Carter, his sister Ann Noble and his grandson Kyle Lindsay.
Family has always been an especially important part of Lorry's life. As a young boy he was called "Okemaw" by his grandparents which meant King. Coming from a large family you must grow up quickly and he would have given the shirt off his back for any one of his family members. Throughout his teenage years he was a jack of all trades, helping around the farm, carpentry and tying steel. He was always immensely proud to be working and providing for his family.
During Lorry's early 20's he met Lucy Delaire in Lloydminster after coming home from working in Edmonton. He immediately convinced Lucy to let him take her on a date and from that moment on the two of them were inseparable and he was instantly welcomed in by the Delaire family. Lorry then married the love of his life in North Battleford August 27, 1966. Not long after they were married Wendy was born in Edmonton and Tammy was born a few years later in Calgary. They both made the decision to move the family to Onion Lake to open a group home which Lorry helped build.
Lorry and Lucy always seemed to think of others before themselves which is why they were able to take on these challenges when most people could not. They then made a move to North Battleford for Lorry's carpentry work and stayed there for a few years until they made it back to the Lloydminster area for good. Lucy opened "Lucy's Styling Studio" with Lorry's carpentry expertise and a wonderful business continued for many, many years.
When the girls became young adults Lucy and Lorry sold "Lucy's Styling Studio" and moved back to Lorry's old stomping grounds for their next venture. In that time Lory renovated a new salon and helped Lucy start a cosmetology class at the high school all while they welcomed over 100 kids into their open custody home. Lucy's health started to decline, and they had to make the hard decision to move back to Lloydminster so she could get the care that she needed. Lucy was always Lorry's number one priority, and he did not leave her side until the day she left us.
Lorry continued doing odd jobs around Lloydminster and played a huge role in Wendy and Tammy's lives. As a father he was incredibly supportive, non-judgmental, and always there for the two of them. When Lucy said no, the girls would go to Lorry because they knew he would say yes. Lorry was so proud of his girls and their lives however maybe not as much as they were of him with the obstacles he faced and overcame usually with a smile on his face. Wendy and Tammy really won the jackpot with Lorry being their dad. Although Lorry never complained about being the only male in a house of three women, he was enormously proud to gain two sons in laws.
He got to share his love of golf, church (the casino), carpentry but most importantly his love of Las Vegas with the two of them. Lorry loved being a father and a father-in-law, but he was especially proud when he became a Grandpa. Grandpa Carter would go above and beyond for his grandkids, he was not only the best Grandpa, but he was also the best friend. He was the best roommate when one of the grandkids needed a place to stay, he was the one they would go to if we were in trouble with the parents (he would never ever rat any of them out). He always had a smile on his face and was so happy to see everyone all the time. We are so glad he was able to spread that joy to his great-grandchildren also.
If you knew Lorry you would know how much his friends meant to him and he had a lot of them. Thank you Lorry/Dad/Grandpa/Great Grandpa and Friend for bringing so much joy into everyone's lives. We will miss seeing your smile, say hi to The Boss.