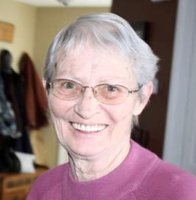 Maureen Napper
Maureen Joyce Napper passed away at Maidstone Health Complex, Maidstone, Saskatchewan, April 27, 2021 at the age of 77 years.
Maureen is survived by: daughters, Tamie (Shane) Moir and Deanna Napper-Whiting (Jeff Silvester); seven grandchildren: Jordan (Thomas), Avery (Braydan), Ethan, Sydney, Ryann, Haidyn and Rohen; three great-grandchildren, Kenley, Emmeline and Kason; sister, Viola (Dave) Frehlich and daughters, Nichole (Dave) Guise and Michelle (Dan) Fortier; siblings-in-law, Maurice (Lois) Napper and daughters, Trina (Trevor) Peters and Danielle Napper, Darryl (Pat) Napper and daughters, Pam (Don) Beamish, Lisa (Kelly) McMillian and Nicole (Randy) Russett, JoAnne (Lyle) Olsen and children, Lesley (Seth) Briggs, Glenn (Angela) Olsen and Valerie (Bryson) Lenganchuk; as well as numerous great nieces and nephews.
Maureen is predeceased by: her husband, Brian Dean Napper.
The private Celebration of Life for Maureen will be held at Lashburn Town & Country Golf Club, Lashburn, Saskatchewan on Friday, April 30, 2021 at 3:00 PM. Due to the current restrictions the service will be by invitation only. If you are unable to attend in person, the service will be live-streamed and posted on the McCaw Funeral Service website under Maureen's obituary by 2:45 PM the day of the service.
Donations in memory of Maureen may be made to Lashburn Community Hall.
Maureen's memorial card can be viewed or downloaded from the link below.
https://indd.adobe.com/view/4e1edd92-d784-40c0-9568-b82895545085